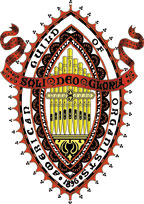 Newsletter
April 2010

Click here for the Newsletter Archive

Click here for a printable copy of the current newsletter



Dear Colleagues,

This Lenten season has certainly had its difficult moments for several of our colleagues. Laura Russell had successful knee replacement surgery on both knees. She is recovering, but it will be slower than she had hoped for. About a month ago also, Connie Lacey fell and dislocated her elbow which has sidelined her for the past weeks. That is now healing well but the cause of the fall she has discovered is the need for a hip replacement. That will take place the Monday after Easter. Frank LaGrande also continues to need our prayers. No lack of things to keep us focused on the Lord!

Although Jack Davis' death was not a surprise it will still mean a very tangible loss to our chapter. And just today I heard of the death of Kay Pearson. May God grant them both rest eternal.

I still remember the first meeting of our chapter which I attended about 9 years ago. Jack sought me out at the refreshment time to welcome me. (I had no idea who he was.) He got me talking (and listening) and we soon discovered points of intersection in our lives. (My son at the time was flying F-16's for the Air Force, and Jack had been a pilot in WWII.) Since I am shy by nature and not feeling at home in a group I didn't know, Jack went a long way toward making me feel that I belonged. We all have our "Jack stories" and should treasure them and share them. The AGO Board is discussing possible ways to have some kind of memorial for Jack in the future. Stay tuned.

After we recover from Easter our next chapter event is a dinner following a recital at West Point on April 25th. The recital by Anthony Rispo starts at 3 p.m. So around 5 p.m. those who would like to have dinner together can meet at the Schades Restaurant in Highland Falls. Go out the Thayer Gate on to Main St. It is on the right not very far down the road. It will be necessary to make reservations so we will need to call or email Eric if we would like to be included. You'll get a reminder about a week before.

In order to be in compliance with the National By-laws we will be having an election this year. Since we hold biennial elections they are to be held in even numbered years. So everyone on the Board who has agreed to continue to serve plus 4 others who have agreed to run will need to be elected to two year terms. Then we can hold elections every two years according to our own by-laws. (Things got a bit mixed up at the time of our convention so we are trying to straighten them back out.) So next month you will receive a ballot containing the following names:
Beverly Simmons, Dean
Craig Williams, Sub-Dean
Eric Hepp, Treasurer
Laura Russell, Secretary
Nancy Harle
Charles Faverio
Susan Guse
Celestine Campbell
Glenn May
Barbara Bayers
Since we have decided to enlarge the number on the Board to 10, we will need to elect all the people listed or else have a write in candidate. The new Board members will begin their terms on July 1st.

As you are diligently practicing your Easter music don't forget to think about what you might like to play in our Member's Recital in June. More on that in our next newsletter.

Please keep our sick and injured colleagues in prayer. And have a very blessed Easter.



Beverly Simmons, SPC
Dean, Central Hudson Valley AGO

In Memoriam: Jack Davis

Reprinted from The Poughkeepsie Journal

POUGHKEEPSIE - John Albert Davis, Jr., age 86, of Poughkeepsie, New York, died Thursday, March 18, at St. Francis Hospital following a courageous battle with cancer. "Jack" was born July 21, 1923 in Pulaski, New York, to John Albert Davis and Ruth Potter Davis. He graduated early from Pulaski Academy, and became an organ major at Westminster Choir College in Princeton, New Jersey. Jack interrupted his studies to join the Army Air Corps as a second Lieutenant during World War II. He served with distinction as a bomber pilot in the European Theater of Operations, flying 66 missions over Germany and its occupied countries. When he returned from duty, he was married to Dorothy Ann Deininger of Wollaston, Massachusetts on August 6, 1945. Jack resumed his studies at Westminster, graduating with a Bachelor of Music degree. He spoke often of this period in his life, and how much he enjoyed being totally immersed in the music community. He and "Dottie Ann" were both members of the college chorus, which was frequently hired to perform with such noted orchestras as the New York Philharmonic. After graduation, the couple was recruited by Park Congregational Church in Grand Rapids, Michigan, where Jack became the organist and choirmaster, and Dottie Ann directed the children's choirs. In 1955 Jack was appointed by President Dwight D. Eisenhower to serve as the organist and choirmaster at the United States Military Academy at West Point, New York. During this period he earned a Masters Degree in Musicology from Boston University. In addition to his chapel duties, he taught music appreciation courses at West Point, and was affectionately known as "Doc" by the cadets because of the honorary doctorate in music bestowed on him by Westminster Choir College. While at West Point he also directed the Ladycliff College Women's Glee Club for many years. Jack retired from West Point in 1985, and became the organist choirmaster at the Reformed Church in Poughkeepsie, New York. He remained there until December 2009. Jack was a Mason for over 50 years, and also a distinguished member of the American Guild of Organists. Jack is survived by his daughter Ellen and her husband Owen, his son John Alec, his son Peter and his wife Irma; two grandsons, George Adam and his wife Martha, and John Adam and his wife Erin; and one great grandson, Riley Adam. He is also survived by several nephews and nieces. He was preceded in death by his wife of 58 years, Dorothy Ann, and his two brothers Richard and Harold. Funeral services for John A. Davis, Jr. was held at 11 a.m., Wednesday, March 24, at the Reformed Church, 70 Hooker Avenue, Poughkeepsie, New York. The Reverend Bob Geehan, pastor, officiated. Donations may be made to the Organ fund at the Reformed Church. Arrangements are entrusted to Schoonmaker Funeral Home, 110 Fulton Ave., Poughkeepsie. For John's guest book please visit [http://www.hudsonvalley funeralhomes.com]www.hudsonvalley funeralhomes.com[EL].

In Memoriam - Kay Pearson

Reprinted from The Poughkeepsie Journal

FT. MYERS, FL - Kathleen Funk Pearson, 93 years old, died March 22, 2010 at Shell Point, Ft. Myers, Florida where she lived for the past 22 years. She remained active as a musician and performer into her late 80's when her boundless energy was compromised by fading eyesight. Though she was dissuaded from a career in music by her father, she eventually impressed him with both her ability and accomplishments. She graduated from Oberlin Conservatory of Music achieving the Selby Houston award for highest honors in organ and theory and was elected to the Honorary Music Society, Pi Kappa Lambda. After graduate study at the Eastman School of Music where she was a student of Harold Gleason, she came to Vassar College as a member of the Music Department and Assistant College Organist in 1941. From 1957 she was Chapel organist playing for commencements, memorials, convocations, weddings and funerals, until her last service on August 28, 1988 - a span of 47 years at Vassar. During her years in Poughkeepsie, NY, she also held positions as organist at the First Presbyterian Church and for 16 years as organist and choir director at Christ Episcopal Church. She was also a Visiting Assistant Professor of Music at SUNY, New Paltz; Chapel organist for the Harvard Divinity School, and for 12 years organist for the summer conferences of the Danforth Foundation. She taught numerous piano and organ students and performed along with her husband Don at Vassar, Yale, Harvard, Princeton, West Point, St. John the Divine NY. She also accompanied the Vassar College Choir when on tour. Throughout her career, she took great pride in the professional accomplishments of her many students. Her natural interest in others and her energy and enthusiasm helped many to advance their own lives and careers. She and Don co-founded the Central Hudson Valley Chapter of the American Guild of Organists, where she also served as Dean of the chapter. In 2008, she was recognized by the chapter for her life-long contribution and dedication to promoting excellence in organ performance and choral music. She moved with her husband Don and her mother-in-law Edith to Florida in 1988 where she continued her passion for music, serving as organist at St. John's Episcopal Church in Naples, Covenant Presbyterian Church in Ft. Myers, then organist and music director at the Sanibel Congregational Church, and finally music director and organist for the Chapel by the Sea on Captiva Island. When asked how she worshiped in different denominations during her career, she replied that no matter what the liturgy was, she worshiped mostly through music. In the early 1990's she founded the Shell Point Singers, a choral group of 65 voices who continue to perform to this day. Her talent, skill and exacting standards enriched the musical lives of those who sang in her choirs and experienced her performances. Following the death of her husband Don in 2004, she created an organ recital fund in his memory which, for the last 5 years has brought noted organists from around the world to Vassar College for an annual memorial recital, which has now been renamed The Donald & Kathleen Pearson Organ Recital Fund. She prided herself on living independently and did so to the very end of her life, continuing to enjoy the company of her many friends and large family. She was born Kathleen Marie Funk on April 19, 1916 in Philadelphia, PA and grew up in Perkasie and Wyomissing, PA. The daughter of Dr. Erwin D. and Estelle Mae Funk, she was married for 62 years to Donald M. Pearson whom she met in graduate school at the Eastman School of Music. She is survived by her sons Randall of Poughkeepsie, NY, Stephen of Cambridge, MA, and Timothy of Tilton, NH. Randall and his wife Patricia, have three children, Erica Patel and her husband Nirav, and their son Aidan, Patrick and his wife Noel and their daughter Anabelle, and Lydia Shapiro and her husband Tom. Timothy and his wife Maria, have three children, Hannah, Noah and Andrew. Her sister Doris Freed and brother Erwin Funk reside in Pennsylvania. During her lifetime she had two children named after her. A memorial service is scheduled for Saturday, May 29th, 1:00 PM at Christ Episcopal Church, Poughkeepsie NY. In lieu of flowers, donations may be made to The Donald & Kathleen Pearson Organ Recital Fund, Vassar College, 124 Raymond Avenue, Box 14, Poughkeepsie, NY 12604-0014.

Editor's Corner

This newsletter is published by the Central Hudson Valley Chapter of the American Guild of Organists. The editor is:
Susan LaGrande
12 Montrose Lane
Wappingers Falls, NY 12590
Phone: 845-226-6496 (home) - Fax: 845-226-1035
e-mail: SUSANEL2@HOTMAIL.COM

Deadline for Next Newsletter

We are always glad to receive input for the chapter newsletter in the form of calendar items, reviews of recent concerts and events, biographies, letters, photographs, etc. In order to make sure these submissions can be processed in a timely fashion, please make sure they are received by the 23rd of each month. However, material such as calendar items may be submitted at any time; even if the material may not make it into the printed newsletter, it can be quickly posted on our web site at www.chvago.org.

You may submit newsletter or web site material by mail, e-mail, fax or phone. Just contact the editor, Susan LaGrande, using the information given below. Remember, the deadline for the next printed newsletter, to be available the first week in May, is April 23rd.