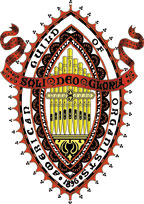 Newsletter
May 2010

Click here for the Newsletter Archive

Click here for a printable copy of the current newsletter



Dear Colleagues,

Iíve just returned from a most inspiring organ concert at West Point. The recitalist, Anthony Rispo, is a freshman organ performance major at The Cleveland Institute of Music where he studies with Todd Wilson. His enthusiasm for the organ and the repertoire he was playing (everything from Bach to Messiaen) was evident not only in the words he spoke prior to each selection but in the playing as well. It was most encouraging to know that the next generation of organists is in good hands, literally. I suggest you keep the name Anthony Rispo in mind and look for it again as the years go by.

A bit closer to home as a chapter is our own memberís recital coming up in June. We will be playing at St. Johnís Lutheran Church on Wilbur Blvd. in Poughkeepsie. The time is 3 PM. Please consider playing for your colleagues. Whatever your level, we would like to hear you and encourage you. Play a piece that you enjoy and play well: it doesnít have to be a Bach fugue or a Franck Chorale! After you know what you want to play call Eric Hepp (845-790-3381) or send him an e-mail at erhepp@us.ibm.com. He would appreciate knowing as soon as possible, including the length of your piece, so he can start putting the program together. You will then also need to contact Susan Guse at 845-227-7696 to arrange practice time on the St. Johnís organ (during normal business hours if at all possible.) Eric is also putting together a reception following the recital. If you are able to help with that please let him know. When all else is taken care of, donít forget to invite your parishioners and any other friends who might enjoy a free concert.

The organ crawl in Kingston that was originally scheduled for May 2 has had to be postponed due to many scheduling conflicts. We hope to do it in the fall or spring next year.

The National Convention in Washington D.C. is fast approaching Ė the beginning of July. There are over 1600 registered so far but there is still room. If anyone is going, please let me know so that we can take the train together. Iíd love to have company! If you are still on the fence about going read James Thomashowerís article on page 7 of the May TAO. It promises to be educational, fun and inspiring.

I look forward to seeing and hearing many of you at our Memberís Recital. If you arenít playing, at least come and support your colleagues!


Beverly Simmons, SPC
Dean, Central Hudson Valley AGO
In Memoriam Ė Kay Pearson

FT. MYERS, FL - Kathleen Funk Pearson, 93 years old, died March 22, 2010 at Shell Point, Ft. Myers, Florida where she lived for the past 22 years. She remained active as a musician and performer into her late 80's when her boundless energy was compromised by fading eyesight. Though she was dissuaded from a career in music by her father, she eventually impressed him with both her ability and accomplishments. She graduated from Oberlin Conservatory of Music achieving the Selby Houston award for highest honors in organ and theory and was elected to the Honorary Music Society, Pi Kappa Lambda. After graduate study at the Eastman School of Music where she was a student of Harold Gleason, she came to Vassar College as a member of the Music Department and Assistant College Organist in 1941. From 1957 she was Chapel organist playing for commencements, memorials, convocations, weddings and funerals, until her last service on August 28, 1988 -a span of 47 years at Vassar. During her years in Poughkeepsie, NY, she also held positions as organist at the First Presbyterian Church and for 16 years as organist and choir director at Christ Episcopal Church. She was also a Visiting Assistant Professor of Music at SUNY, New Paltz; Chapel organist for the Harvard Divinity School, and for 12 years organist for the summer conferences of the Danforth Foundation. She taught numerous piano and organ students and performed along with her husband Don at Vassar, Yale, Harvard, Princeton, West Point, St. John the Divine NY. She also accompanied the Vassar College Choir when on tour. Throughout her career, she took great pride in the professional accomplishments of her many students. Her natural interest in others and her energy and enthusiasm helped many to advance their own lives and careers. She and Don co-founded the Central Hudson Valley Chapter of the American Guild of Organists, where she also served as Dean of the chapter. In 2008, she was recognized by the chapter for her life-long contribution and dedication to promoting excellence in organ performance and choral music. She moved with her husband Don and her mother-in-law Edith to Florida in 1988 where she continued her passion for music, serving as organist at St. John's Episcopal Church in Naples, Covenant Presbyterian Church in Ft. Myers, then organist and music director at the Sanibel Congregational Church, and finally music director and organist for the Chapel by the Sea on Captiva Island. When asked how she worshiped in different denominations during her career, she replied that no matter what the liturgy was, she worshiped mostly through music. In the early 1990's she founded the Shell Point Singers, a choral group of 65 voices who continue to perform to this day. Her talent, skill and exacting standards enriched the musical lives of those who sang in her choirs and experienced her performances. Following the death of her husband Don in 2004, she created an organ recital fund in his memory which, for the last 5 years has brought noted organists from around the world to Vassar College for an annual memorial recital, which has now been renamed The Donald & Kathleen Pearson Organ Recital Fund. She prided herself on living independently and did so to the very end of her life, continuing to enjoy the company of her many friends and large family. She was born Kathleen Marie Funk on April 19, 1916 in Philadelphia, PA and grew up in Perkasie and Wyomissing, PA. The daughter of Dr. Erwin D. and Estelle Mae Funk, she was married for 62 years to Donald M. Pearson whom she met in graduate school at the Eastman School of Music. She is survived by her sons Randall of Poughkeepsie, NY, Stephen of Cambridge, MA, and Timothy of Tilton, NH. Randall and his wife Patricia, have three children, Erica Patel and her husband Nirav, and their son Aidan, Patrick and his wife Noel and their daughter Anabelle, and Lydia Shapiro and her husband Tom. Timothy and his wife Maria, have three children, Hannah, Noah and Andrew. Her sister Doris Freed and brother Erwin Funk reside in Pennsylvania. During her lifetime she had two children named after her. A memorial service is scheduled for Saturday, May 29th, 1:00 PM at Christ Episcopal Church, Poughkeepsie NY. In lieu of flowers, donations may be made to The Donald & Kathleen Pearson Organ Recital Fund, Vassar College, 124 Raymond Avenue, Box 14, Poughkeepsie, NY 12604-0014.

Editorís Corner

This newsletter is published by the Central Hudson Valley Chapter of the American Guild of Organists. The editor is:
Susan LaGrande
12 Montrose Lane
Wappingers Falls, NY 12590
Phone: 845-226-6496 (home) - Fax: 845-226-1035
e-mail: SUSANEL2@HOTMAIL.COM

Deadline for Next Newsletter

We are always glad to receive input for the chapter newsletter in the form of calendar items, reviews of recent concerts and events, biographies, letters, photographs, etc. In order to make sure these submissions can be processed in a timely fashion, please make sure they are received by the 23rd of each month. However, material such as calendar items may be submitted at any time; even if the material may not make it into the printed newsletter, it can be quickly posted on our web site at www.chvago.org.

You may submit newsletter or web site material by mail, e-mail, fax or phone. Just contact the editor, Susan LaGrande, using the information given below. Remember, the deadline for the next printed newsletter, to be available the first week in June, is May 23rd.