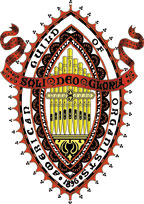 Newsletter
June 2010

Click here for the Newsletter Archive

Click here for a printable copy of the current newsletter



Dear Colleagues,

With spring (or is it summer?) finally here we find ourselves busy with ďfinalĒ programs of all kinds: spring concerts, school and church picnics, last choir rehearsal of the season, etc. It will soon be time to relax a bit more and not push ourselves so hard.

But FIRST, let me remind you of our Memberís Recital on June 13. We do need you to sign up to play. If you are working on a large piece, wonderful. But if something short and sweet is more to your liking or ability, that is fine too. Whatever you enjoy playing and play well, that is what we would all like to hear. So even if you have never played on one of our recitals before, please consider it. You will need to do two things. First, let Eric Hepp (erhepp@us.ibm.com or 845-790-3381) know what you will be playing. He will be putting together the program. Since we are having the Recital at St. Johnís Lutheran on Wilbur Blvd. in Poughkeepsie, you will then need to arrange practice time with Susan Guse. Her email is sguse@frontiernet.net and her phone is 845-227-7696. Please try to arrange practice time during normal business hours when the secretary will be able to let you in.

Even if you canít play this year, please come and support your fellow organists with your presence. We all appreciate an audience. And if you would like to help Eric with the reception please check with him as to what might need to be done.

I am happy to report that Connie Lacey is doing very well following her dislocated elbow and then hip replacement surgery. She is back home and still doing therapy but will be able to start driving very soon and hopes to get back to playing before too long.

Other good news is that Laura Russell is finally starting to feel better and has less pain after her double knee replacement surgery three months ago. It has been a long painful road for her but she was back playing after Easter.

As many of you know Susan LaGrandeís husband Frank, was due to have bladder cancer surgery a few weeks ago. At the last moment it was postponed due to his having a fever. It will be rescheduled soon, so please continue to keep them both in your prayers.

Another of our long time members, Martha Miller, has just lost her husband of 63 years, The Rev. Hugh Franklin Miller. He served for many years at the Congregational Church in Poughkeepsie. We pray that Godís peace and comfort will be with her at this difficult time. For those who know Martha, if you wish to send a card her address is 461 Grafton Road, Apt. 107, Townshend, VT 05353.

I hope to see many of you on June 13 at 3:00 PM. for our Memberís Recital.



Membership News

ē Polly James has a new e-mail address, effective immediately: pbjames1941@hotmail.com

In Memoriam Ė The Rev. Hugh Franklin Miller

BRATTLEBORO, VT - The Reverend Hugh Franklin Miller, 89, husband of longtime CHVAGO member Martha Miller, died in Brattleboro, Vermont on April 11, 2010. Rev. Miller came to Poughkeepsie with his family in 1968 and spent the next 38 years in service to the people of Dutchess County. He was first called to be the Executive Minister of the Dutchess County Council of Churches, and also served as Protestant chaplain at the Dutchess County Jail during this time. He was one of the founders of the newly organized Dutchess Interfaith Council which officially began in May of 1972. Now known as the Dutchess County Interfaith Council, it is one of the oldest, continuous interfaith organizations in the United States. In 1972 Rev. Miller was called to be the pastor at the First Congregational Church in Poughkeepsie, a position he held for 10 years. He was then appointed by the Dutchess County Executive to be the Director of the Dutchess County Office for the Aging, a position he held for six years. He continued to serve his community after his retirement in 1988, preaching in various churches in Dutchess County and in Bridgeport, Connecticut. He is survived by his wife of 67 years, Martha Smith Miller, and his three children. A memorial service will be held at the First Congregational Church, 269 Mill Street, Poughkeepsie, New York, Saturday, June 12 at 2:00 pm. A reception will be held in Margaret Chapel immediately afterward. In lieu of flowers, donations may be made to the First Congregational Church.
Excerpted from the Poughkeepsie Journal

Deadline for Next Newsletter

We are always glad to receive input for the chapter newsletter in the form of calendar items, reviews of recent concerts and events, biographies, letters, photographs, etc. In order to make sure these submissions can be processed in a timely fashion, please make sure they are received by the 23rd of each month. However, material such as calendar items may be submitted at any time; even if the material may not make it into the printed newsletter, it can be quickly posted on our web site at www.chvago.org.

You may submit newsletter or web site material by mail, e-mail, fax or phone. Just contact the editor, Susan LaGrande, using the information given below. Remember, the deadline for the next printed newsletter, to be available the first week in July, is June 23rd.

Editorís Corner

This newsletter is published by the Central Hudson Valley Chapter of the American Guild of Organists. The editor is:
Susan LaGrande
12 Montrose Lane
Wappingers Falls, NY 12590
Phone: 845-226-6496 (home) - Fax: 845-226-1035
e-mail: SUSANEL2@HOTMAIL.COM