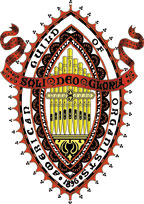 Newsletter
July 2010

Click here for the Newsletter Archive

Click here for a printable copy of the current newsletter



Dear Colleagues,

We had a very nice recital on June 13th at St. Johnís Lutheran. Many thanks to all who played and also to those who came to listen. They made an appreciative audience.

Our next event is purely social Ė the annual chapter picnic. If you arenít on vacation please do come and enjoy some time with your colleagues. As usual the chapter will furnish soda and the meat for the grill. So please bring a side dish, appetizer or dessert to share. Eric has a wonderful yard in which to sit and talk. Bring a chair and get to know your colleagues.

In the fall we have an event planned which you need to put on your calendars now so you can include it in your fall plans. On Sunday, October 24 at 3 p.m. at the West Point Cadet Chapel we will sponsor an ecumenical Evensong service. The choir will be made up of singers from our choirs who would like to participate and the congregation will hopefully include many from our churches. Laura Russell will be our conductor, Craig Williams will play the organ and we will be accompanied by a string quintet and 2 oboes. The center piece of the service will be Cantata #80 Ein feste Burg (A Mighty Fortress) by Bach. Anyone singing in this summerís BachFest will have learned the music. We will then teach some of it to our choirs. (You donít have to be part of BachFest to participate). There are three choral movements, two of which most choirs can manage. The opening chorus will probably be a smaller group that has either sung it at BachFest or had the time to learn it in the fall. We will each teach our own choirs and then come together for two combined rehearsals, one in Poughkeepsie and one at West Point. Iíll give you more details on that later. There will be other music as well for our choirs to learn and sing together.

I believe this could be a very exciting opportunity for us and our choirs. So please start thinking about it now and talk it up at your churches in the fall. We will need both singers and congregation. What fun it will be to sing in the chapel, and for members of our congregations to hear us there.

I look forward to seeing many of you at our picnic. Come relax and enjoy!


Beverly Simmons, SPC
Dean, Central Hudson Valley AGO

Condolences

We are saddened to report the death of Polly Jamesí stepson, Andrew Richard James, on June 14. Our prayers go out to Polly and her family. If anyone wishes to express condolences online please go to www.copelandfhnp.com.

Membership Applications Now Due

Itís that time again! Please complete the membership application included with this newsletter and send it in as soon as possible, along with your check. (The membership application is also available on the Chapter Info web page.) Dues have not changed since last year, so there are no surprises in the application. We hope to receive all applications as soon as possible so that Eric, our treasurer, can send in our chapterís portion to AGO headquarters. You will also want to make sure to avoid any interruption in your subscription to The American Organist magazine. Donít delay! Mail today!

Old Dutch Church Recital Series Not Taking Place This Year

Due to repair and renovation work in the sanctuary of Old Dutch Church in Kingston, NY, the popular summer lunchtime organ recital series will not be offered this year. It is hoped that, if all goes well, the series will resume next year.

Introducing Our New Officers

Our elections are complete, and we welcome our new officers. We also thank retiring officer Maris Kristapsons for his years of faithful service. Here is the new list of officers:

Dean: Beverly Simmons (unchanged)


Sub-Dean: Craig S. Williams (unchanged)


Secretary: Laura Ramsey Russell (unchanged)


Treasurer: Eric Hepp (unchanged)


Board Member: Charles Faverio (unchanged)


Board Member: Nancy Harle (unchanged)


Board Member: Susan Guse. As long-time organist at St. Johnís Lutheran Church in Poughkeepsie, Susan is well-known as a fine performer and an active participant in chapter activities.


Board Member: Celestine Campbell, Music Director of the Bethel Missionary Baptist Church in Wappingers Falls. Celestine is interested in attracting larger and more diverse audiences to the many fine organ concerts offered in our region.


Board Member: Glenn May. Despite his affiliation with the Monmouth County chapter, since 1967 Glenn has made Dutchess County his home. He considers it a great honor to be chosen as a board member, and would like to see more non-organists among our members.


Board Member: Barbara Bayers, who joined our chapter in 2009. As a board member, her focus would be toward activities/events/forums that would assist in creating awareness & interest in the organ, organists as professionals and the accessibility of the organ to persons of all ages.
Editorís Corner

This newsletter is published by the Central Hudson Valley Chapter of the American Guild of Organists. The editor is:
Susan LaGrande
12 Montrose Lane
Wappingers Falls, NY 12590
Phone: 845-226-6496 (home) - Fax: 845-226-1035
e-mail: SUSANEL2@HOTMAIL.COM

Deadline for Next Newsletter

We are always glad to receive input for the chapter newsletter in the form of calendar items, reviews of recent concerts and events, biographies, letters, photographs, etc. In order to make sure these submissions can be processed in a timely fashion, please make sure they are received by the 23rd of each month. However, material such as calendar items may be submitted at any time; even if the material may not make it into the printed newsletter, it can be quickly posted on our web site.

You may submit newsletter or web site material by mail, e-mail, fax or phone. Just contact the editor, Susan LaGrande, using the information given below. Remember, the deadline for the next printed newsletter, to be available the first week in August, is July 23rd.