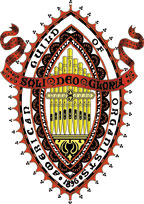 Newsletter
August 2010

Click here for the Newsletter Archive

Click here for a printable copy of the current newsletter



Dear Colleagues,

Here we are in the middle of the summer having some absolutely beautiful weather. You canít ask for better than cool nights for sleeping and days in the 80ís. We already had our hot August weather so letís hope it stays this way for a while.

Hot was definitely the watch word at our National Convention in Washington D.C. It was triple digits almost every single day we were there. Yes, the venues were air conditioned, but with 101ļ outside and 2100 people inside, it was still mighty warm. The concerts, however, made one forget the heat as we listened to organs and choirs throughout the city and even at the Naval Academy in Annapolis.

This was the 50th National Convention, hosted by the D.C. chapter during their 100th anniversary year. All 50 states were represented as well 16 foreign countries. 259 AGO chapters were present and we had 147 students. Our chapter had donated the funds for one student registration scholarship. It was so nice to see these young people.

We had our opening Convocation at the National Cathedral and the closing concert at the Shrine of the Immaculate Conception. We all also fit (just barely!) into the chapel at the Naval Academy. The rest of the time we chose between concert and venue options. I attended a Bach Vesper service one day and a Childrenís Worship Service another. All programs were of the highest quality.

If you have never been to a convention I highly recommend it. Next year Regions I and II will combine in Morristown, New Jersey. In two years the National will be in Nashville!

Closer to home our program committee has been busy planning some interesting things for the fall. For those of us on the Poughkeepsie side of the river Kingston may seem a long way away. But it isnít really that far and there are some lovely organs to be heard and played. So to get us going in the fall, on September 11 we will have an organ crawl in Kingston at Old Dutch, Fair Street and St. James, probably also Emmanuel Lutheran. For those who want to go together we can car pool from the south parking lot of Christ Church Poughkeepsie. We will meet at 9:00 AM. For those meeting us at the first location, look for that information in our next newsletter.

Remember to plan to participate in our Ecumenical Evensong at West Point on October 24th. Craig will give a 30-minute recital prior to the start of the service. I included a lot of information in the last newsletter so I wonít repeat it here. The Board has approved the order of service and the music. Before long you should be able to download copies of the canticles and Psalm from Laura Russell. She can also send you a PDF (legal) of Cantata #80 for those with choirs who want to learn the two easier movements.

We have a workshop with Gail Archer in the works for November but no specifics yet. Stay tuned. In the meantime enjoy the rest of the summer. I canít wait to go camping in the Adirondacks and put my canoe in the water. See you in Kingston in September.


Beverly Simmons, SPC
Dean, Central Hudson Valley AGO

Membership News

From Susan LaGrande: Thanks to everyone for all the good wishes and prayers for my husband Frank. His surgery went well and he is now home regaining his strength, which will be helped by your gift of an Edible Arrangement of fresh fruit, delivered yesterday. We deeply appreciate your thoughtfulness.

Donít Forget to Send in Your Membership Applications

A printed membership application was included with last monthís newsletter. If you need one, please contact Susan LaGrande at 845-226-6496. Send in your application along with your check as soon as possible. Donít delay! Mail today!

Editorís Corner

This newsletter is published by the Central Hudson Valley Chapter of the American Guild of Organists. The editor is:
Susan LaGrande
12 Montrose Lane
Wappingers Falls, NY 12590
Phone: 845-226-6496 (home) - Fax: 845-226-1035
e-mail: SUSANEL2@HOTMAIL.COM

Deadline for Next Newsletter

We are always glad to receive input for the chapter newsletter in the form of calendar items, reviews of recent concerts and events, biographies, letters, photographs, etc. In order to make sure these submissions can be processed in a timely fashion, please make sure they are received by the 23rd of each month. However, material such as calendar items may be submitted at any time; even if the material may not make it into the printed newsletter, it can be quickly posted on our web site at www.chvago.org.

You may submit newsletter or web site material by mail, e-mail, fax or phone. Just contact the editor, Susan LaGrande, using the information given below. Remember, the deadline for the next printed newsletter, to be available the first week in September, is August 23rd.