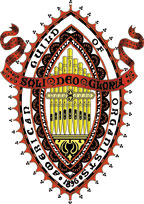 Newsletter
September 2010

Click here for the Newsletter Archive

Click here for a printable copy of the current newsletter



Dear Colleagues,

Join us for an organ crawl to some of the major instruments in Kingston, NY. Bring your shoes and a favorite piece to share with us, or just come to listen. We'll meet at the south parking lot at Christ Church in Poughkeepsie at 9:00 AM. From there we'll carpool to downtown Kingston, where we can park and walk to the first 3 churches and to lunch; all locations are within 2 blocks of each other. We'll have an enjoyable lunch with our hosts, and then will stop at Immanuel Lutheran in lower Kingston on the way home. Here's the schedule:

10:00 AM - St. James United Methodist, 35 Pearl Street, Kingston (organist: Lonnie Kulick)
10:45 - Fair Street Reformed Church, 209 Fair Street, Kingston (organist: Terry Earles)
11:30 AM - Old Dutch Reformed Church, 272 Wall Street, Kingston (organist: Jean Hattersley)
12:15 PM - Lunch (location to be announced)
1:15 PM - Immanuel Lutheran Church, 22 Livingston Street, Kingston (organist: James Fitzwilliam)
Of course, if you live closer to Kingston, you can meet us at St. James at 10:00 AM for the start of our tour. There is sufficient parking around the church. We can also arrange a carpool location from Highland if there are enough from the west side of the river that would like to meet us there.

As you begin your choir rehearsals donít forget to plan on being part of the Ecumenical Evensong on October 24th at West Point. If you need music for your choir please contact Laura Russell at LRUSSELL@hvc.rr.com. She can email you the necessary parts of the service so your choir can learn them and sing with the large group at West Point. Also, let your parishioners know about this because we would like to have a congregation that day as well.

As you begin your fall schedules take a deep breath, say a prayer, and remember that all we do is meant to bring glory to God. Letís do our best to make that happen.


Beverly Simmons, SPC
Dean, Central Hudson Valley AGO

Membership News

ē From Susan LaGrande: I have a new e-mail address, effective immediately: SUSANEL2@OPTONLINE.NET. Please delete any future e-mails you may receive from the old e-mail address (SUSANEL2@HOTMAIL.COM) because that account has been hacked and is being used by an imposter to solicit money. Protect yourself: Change your passwords frequently!

Editorís Corner

This newsletter is published by the Central Hudson Valley Chapter of the American Guild of Organists. The editor is:
Susan LaGrande
12 Montrose Lane
Wappingers Falls, NY 12590
Phone: 845-226-6496 (home) - Fax: 845-226-1035
e-mail: SUSANEL2@OPTONLINE.NET


Deadline for Next Newsletter

We are always glad to receive input for the chapter newsletter in the form of calendar items, reviews of recent concerts and events, biographies, letters, photographs, etc. In order to make sure these submissions can be processed in a timely fashion, please make sure they are received by the 23rd of each month. However, material such as calendar items may be submitted at any time; even if the material may not make it into the printed newsletter, it can be quickly posted on our web site at www.chvago.org.

You may submit newsletter or web site material by mail, e-mail, fax or phone. Just contact the editor, Susan LaGrande, using the information given above. Remember, the deadline for the next printed newsletter, to be available the first week in October, is September 23rd.
Letís Start Scouting Our Replacements Now

Take a look at the Position Openings section of this newsletter. There are seven new listings submitted in the past month alone, far more than usual. Also, those of us whose names are on the Sub List receive many more requests than we can fill. Where are the organists who can provide for the needs in these churches? They are in our congregations, in our classrooms, waiting for us to recruit them and get them started. Each of us has a responsibility to make our instrument and our profession irresistibly attractive to the next generation. What will you do to make that happen?