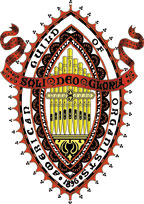 Newsletter
October 2010

Click here for the Newsletter Archive

Click here for a printable copy of the current newsletter



Dear Colleagues,

We had a wonderful start to the fall season with our organ crawl in Kingston. Thanks to our host organists: Lonnie Kulick, Terry Earles, Jean Hattersley and James Fitzwilliam. Also many thanks to Eric Hepp for arranging this. We got to play (or listen to) four very different organs as well as have lunch with our colleagues. Great fun!

Our next event is a big one: Evensong at West Point on October 24. Craig Williams will start us off at 2:30 with a 30-minute organ recital. The Evensong is in honor of the Protestant Reformation which began in 1517 when Martin Luther posted his 95 theses on the church door in Wittemberg. Luther's most famous hymn, A Mighty Fortress is our God, will be sung by the congregation. It is also the basis for the Bach Cantata (Ein feste Burg) which will be sung by area church choirs during the Evensong. They will be accompanied by oboe and a string quintet. We will also sing a Psalm based on that hymn and text. Other music includes some chants and the final blessing as set by Peter Lutkin.

If your church choir would like to participate you need to contact Laura Russell mmediately. If she already knows you are participating, please contact her to let her know how many singers will be coming from your group.

If your choir is not participating as singers please encourage them and others in your church to come and be part of the worshiping congregation.

Looking ahead please put November 13 on your calendar. Gail Archer, internationally known concert artist and Vassar chapel organist, will be giving us a workshop. Look for more details about time and place in our next newsletter.


Beverly Simmons, SPC
Dean, Central Hudson Valley AGO

Membership News

Your recently processed membership applications yielded some updated information, shown below. Please check the details and contact Susan LaGrande at 845-226-6496 with any changes.

Joe Bertolozzi's e-mail address is now joseph.bertolozzi@gmail.com.


Larry Hazard has a new e-mail address: LarryHazard@hotmail.com. He would also like to be called as a sub for services earlier than 11:00 AM Sunday, as well as for weddings and funerals.


Nancy Harle's position has been inadvertently omitted from previous rosters. It should be noted that she has been organist for the past four years at Ladentown Methodist Church, Pomona, NY and Viola United Methodist Church, Suffern, NY.


Barbara Bayers has a new address. Her contact information is:
535 Grand Avenue
Newburgh, NY, 12550
203-260-4295
babayers@gmail.com


Polly James has moved. Her new contact information is:
PO Box 1543
Highland, NY, 12528
cell phone 845-399-7725
pbjames1941@hotmail.com


We welcome returning member Grant Chapman, whose contact information is:
PO Box 157
West Point, NY 10996-0157
845-446-7416
Cell: 845-857-9441
wmgrantchapman@msn.com
William.chapman@usma.edu


Welcome also to returning member Fr. George Hafemann, currently pastor of St. Mary's Church in Port Jervis. His contact information is:
P.O. Box 712,
Port Jervis, NY, 12771,
845-856-8212,
frgeohafe@yahoo.com


Welcome to new member Ms. Eui Kim, Music Director at Warren Point Presbyterian Church in Fairlawn, NJ. Her contact information is:
118 Fairfield Drive
Paramus, NJ, 07652
201-566-3734
ryunk2005@yahoo.com


Welcome to new student member Adam Kowal. His contact information is:
66 Ridgedale Road
Bethel, CT, 06801
845-820-3557
pianoman18@live.com


Welcome to new student member Patrick Walker. His contact information is:
77 Dorsey Lane
Hyde Park, NY 12538
845-473-4208
For Sale – Organ Benches

As a result of work done on the organ over the summer, Christ Church in Poughkeepsie now has two organ benches for sale:

Walnut fixed height bench – 26.5 inches $500 or best offer


One Oak adjustable height bench with manual crank Height is adjustable between 24.5 and 28.5 inches. $500 or best offer

Photos are available on our web site at www.chvago.org. To make an offer, please contact Laura Russell at 845-485-1648.

Editor's Corner

This newsletter is published by the Central Hudson Valley Chapter of the American Guild of Organists. The editor is:
Susan LaGrande
12 Montrose Lane
Wappingers Falls, NY 12590
Phone: 845-226-6496 (home) - Fax: 845-226-1035
e-mail: SUSANEL2@OPTONLINE.NET