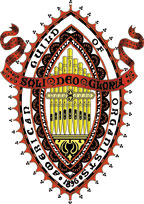 Newsletter
November 2010

Click here for the Newsletter Archive

Click here for a printable copy of the current newsletter



Dear Colleagues,

If you weren't able to be at West Point on October 24th you missed a really great afternoon. The ecumenical Evensong in honor of the Reformation was a wonderful service of worship for singers and congregation (several hundred) alike. Six of our members sang along with members from their choirs which they had previously rehearsed in the music. We had about 60 singers plus a small chamber orchestra. Special thanks to Laura Russell for coordinating everything and conducting and to Craig Williams for his inspiring recital prior to the service and his playing throughout as well. I can't mention all the names, but if you were involved in any way, thank you!

This is the time of year when churches are running stewardship campaigns and trying to get the budget in place for the next year. It is also the time when decisions are being made about raises. Have you gotten a salary increase lately? – ever? Sometimes we may not get what we don't ask for. So I want to make a few observations about salaries.

In 2003 I took a job at the Reformed Temple of Putnam Valley. I knew nothing about Jewish liturgy and didn't know a word of Hebrew. They assured me they would help me learn and they have. So for the first few years I knew I didn't really deserve a raise while I was learning. But after 5 years I began to think I would never get a raise unless I asked, so I did. But first I did my homework. I told them what I pay for a substitute at my church in Fishkill and I had checked on what a friend paid her substitutes in Peekskill. I pointed out that the price of gas had gone up substantially since I took the job and I have a 60 mile round trip commute each week. I also asked for an immediate increase in the amount I was being paid for the Bar-Mitzveh's I was playing. I compared it to a wedding and told them what I got for that at my church. The result was an immediate increase both for the Bar-Mitzveh's and for my regular Friday nights. Not all requests will have such a happy ending, of course.

So how do you know what is an appropriate amount to be paid for the job you do? First you need to be clear about the amount of time you are spending. I find that many pastors and church boards have no idea of what the time requirements are. What they see are the "visible" hours you spend at your job: playing on Sunday and choir rehearsal. For one Sunday service (with warm-up rehearsal) and one mid-week rehearsal they might think you work 5 or 6 hours a week. But the rule of thumb is that you take the "visible" hours and multiply by 3 to get the real total of what most people will spend on the job. You need to be prepared to enumerate what those "invisible" tasks are. Aside from practicing (the most time consuming) you choose music for the choir, order it, learn it, file it. Then you may choose the hymns and liturgical music or meet with the pastor to discuss same. Do you write a newsletter article, change the hymn board in the church, rehearse with individuals or instrumentalists, arrange parts for your choir or other musicians? Do you arrange to have the pianos and organ tuned – maybe even having to be there to let people in? By now you have the picture and can fill it in with your own particular situation.

The National AGO publishes salary guidelines every year which take into account the total number of hours required for the job and your educational background and experience. I recommend you print out a copy to give to your pastor or board when you start salary negotiations (www.agohq.org). Scroll down to the Special Features box and click on salary guidelines.) Most of us won't come up to that standard but it does help people realize the extent to which you are underpaid! And don't be afraid to raise the issue of benefits. Does your denomination have a pension plan for lay people? If so, you should be part of it. Do you need health insurance? AGO Headquarters also offers group insurance that might work for some people, especially if a church is willing to subsidize part of the cost. To get there from the AGO home page, scroll down to the Special Features box on the left side of the screen and click on Insurance.

My final comment on salaries is that you should have some kind of contract or agreement with the body that is employing you. Pastors all have some kind of agreement and you should too. Sample AGO contracts are available on line as well.

If you do approach your board or pastor about a raise do it humbly and without making demands. Let them know that you are understanding about all the other expenses of the church and that it may not be possible immediately. But tell them gently that you think it is time they considered a raise, especially if it has been quite a while. Best wishes for a good outcome!

Please check our online calendar frequently, especially at this time of year. There are many wonderful musical opportunities, many presented by your colleagues. Support them when you can with your presence. Our AGO sponsored event for November is our workshop with Gail Archer (Vassar organist and concert artist) on November 14 at 3:00 PM. The location is still not set so check the website and I'll try to send out an email as well.

If you are in the market for any organ music you might want to check out the website www.organtours.com. There is information on how to contact Leslie Peart and ask him for his list (10 pages) of music that he is selling. (Or I can forward the list he sent me if you ask.) He is downsizing his music collection and everything is going for much less than new copies cost.

Finally, in January we will have a choral reading session, but with a twist. This is not music from publishers, but rather music which you think is especially good and which you are willing to share. You must contact Laura Russell if you have a piece or two you want to share. On the day of the program you will bring copies from your library for us to sing from (and return!). You can conduct and we will furnish an accompanist. Everyone will receive a list of what we are singing so if we like it we will have the ordering information. So start thinking what you might want to share and let Laura know.

I hope you all have a fantastic (great, swell, positiv) Thanksgiving and a good beginning to the Advent season.


Beverly Simmons, SPC
Dean, Central Hudson Valley AGO

Endangered Tracker Organ – Can It Be Saved? - by Susan LaGrande

Some of you may have heard about a tracker organ in upstate New York that is apparently in danger of being thrown out with the trash. This is not a historic instrument in any sense; in fact, it was finished shortly before 2003, when it was featured at the Region II AGO Convention.

I attended that convention, but I did not take the tour which included this instrument, so I can't comment on the quality of its sound. Apparently there has been some controversy about that. Nevertheless, it is shocking to think of a fully-functional, beautifully housed pipe organ being discarded.

Even worse is the realization that there are people working hard to rescue this instrument; there is another church who reportedly wants to purchase it, but their offer has been refused. Apparently the current administration of the church where the organ resides would prefer to destroy it and take the financial loss (estimated at up to $1 million) than allow the instrument to be relocated.

Unfortunately the resolution of this matter is not subject to outside influence, so no amount of outcry is likely to save the organ. But the fact that such a situation can exist anywhere should give us pause. Are we being good stewards of the organs under our care? Can we defend them and care for them as they deserve? Let's not let this happen again.

Editor's Corner

This newsletter is published by the Central Hudson Valley Chapter of the American Guild of Organists. The editor is:
Susan LaGrande
12 Montrose Lane
Wappingers Falls, NY 12590
Phone: 845-226-6496 (home) - Fax: 845-226-1035
e-mail: SUSANEL2@OPTONLINE.NET
Deadline for Next Newsletter

We are always glad to receive input for the chapter newsletter in the form of calendar items, reviews of recent concerts and events, biographies, letters, photographs, etc. In order to make sure these submissions can be processed in a timely fashion, please make sure they are received by the 23rd of each month. However, material such as calendar items may be submitted at any time; even if the material may not make it into the printed newsletter, it can be quickly posted on our web site at www.chvago.org.

You may submit newsletter or web site material by mail, e-mail, fax or phone. Just contact the editor, Susan LaGrande, using the information given above. Remember, the deadline for the next printed newsletter, to be available the first week in December, is November 23rd.