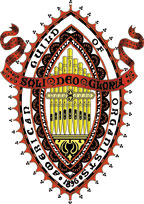 Newsletter
January 2011

Click here for the Newsletter Archive

Click here for a printable copy of the current newsletter



Dear Colleagues,

I am writing this at the beginning of our blizzard the day after Christmas. I like snow, but I'm certainly thankful we didn't have to cope with this on Christmas Eve or Christmas Day. Since that is behind us (and there are several days before I fly to Memphis to be with my son) I can relax and enjoy the beauty of it. I hope you can too. I know there will be plenty to shovel and blow by tomorrow but for now it is just fun to watch.

Our next chapter event (please no snow that weekend) is our Choral Reading Workshop on Sunday afternoon, January 23rd at 3 p.m. at Christ Church, Poughkeepsie. Please remember that we need some of you to share your favorite anthems with us and we need the rest of you to form a choir to sing these anthems.

Here's how it works. You choose one or two anthems that you wish to share. You contact Laura Russell (845) 485-1648 and tell her what anthems you wish to share with us. She needs to know the title, composer, publisher, voicing and approximate length. If you know the current price per copy, that would be good too. Laura will organize the afternoon and also forward this information to Barbara Bayers who will compile a list for each of us. That way if you like an anthem that we sing, you will have all the information you need to order copies for your choir. For the reading session on January 23, however, you must bring your copies of the anthem. We will read through it and immediately return the copies to you.

If you don't wish to share an anthem with us, please come and be part of the "choir" to help us see what might be useful for each of us in our churches. I have always found such sessions to be immensely helpful in choosing new repertoire. I hope you do too. Please join us, and also feel free to invite your choir members to come. The more the merrier!

The busy season may be behind us, but there are still some wonderful concerts to be heard. Check our website. If you are involved in any, be sure to let Susan LaGrande know about them. I know of two good ones coming up: the Gift to the City Concert on January 9th and the "Musical Treasures" Concert of Cappella Festiva on January 15th and 16th.

May you each have a healthy and happy New Year as we begin 2011.


Membership News
Barbara Bayers has a new address:
603 Dove Court, New Windsor, NY 12533. In addition to her cell phone (203-260-4295) she now has a land line: 845-391-8479. Her email remains the same at babayers@gmail.com.


Denise Bassen has resigned her post at Holy Trinity RC in Poughkeepsie.[ebul
Deadline for Next Newsletter

We are always glad to receive input for the chapter newsletter in the form of calendar items, reviews of recent concerts and events, biographies, letters, photographs, etc. In order to make sure these submissions can be processed in a timely fashion, please make sure they are received by the 23rd of each month. However, material such as calendar items may be submitted at any time; even if the material may not make it into the printed newsletter, it can be quickly posted on our web site at www.chvago.org.

You may submit newsletter or web site material by mail, e-mail, fax or phone. Just contact the editor, Susan LaGrande, using the information given above. Remember, the deadline for the next printed newsletter, to be available the first week in February, is January 23rd.

Editor's Corner

This newsletter is published by the Central Hudson Valley Chapter of the American Guild of Organists. The editor is:
Susan LaGrande
12 Montrose Lane
Wappingers Falls, NY 12590
Phone: 845-226-6496 (home) - Fax: 845-226-1035
e-mail: [L=mailto:SUSANEL2@OPTONLINE.NET]
SUSANEL2@OPTONLINE.NET[EL]