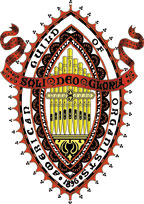 Newsletter
February 2011

Click here for the Newsletter Archive

Click here for a printable copy of the current newsletter



Dear Colleagues,

I hope you are all managing to keep warm in our frigid weather. It was made a little warmer yesterday as almost 20 of us gathered for our choral reading workshop. Many thanks to Laura and Barbara for organizing this event and to all who presented anthems. We had a good mix of styles and difficulty and I think we all came away with some ideas for future anthems at our churches. Those of us who attended were so enthusiastic that we may just make this an annual event. Next time we might have a ďthemeĒ such as Easter or Lent.

Our next big event is our social: Spuds and Sundaes. If you have never come to this social, please consider doing so. Itís a chance to sit and talk with your colleagues (over some very good food) and for us all to get to know each other a bit better. We also have a music sale. It works like this: you bring any unwanted music (choral, organ, piano, even books about music) and donate it to the chapter. You are free to look at everything that was brought and maybe find some things you would like to take home. If you take anything we ask for a reasonable donation to our scholarship fund. You also are required to TAKE HOME anything you brought that didnít sell. We have no place to store it. If you have students you may be able to find some pieces for them as well.

Your Board is furnishing the food. We will have chili (both with and without meat), baked potatoes with LOTS of different toppings and for dessert you can make your own ice cream sundae Ė yes even in February. When I first came to this chapter and heard about Spuds and Sundaes I thought it sounded really strange. But guess what Ė itís absolutely delicious. So please come join us on February 13th at 5 p.m. at Trinity Episcopal Church in Fishkill. We will be in the Parish Hall which is right on route 9 next to Taco Bell (just south of the intersection with route 52). If you need more information please call me at (845) 463-1249.

Do also start thinking about attending the Regional Convention this summer in Morristown, NJ. Watch TAO for information on registration. You always save money with an early registration which is why it helps to plan now to attend. It will be July 3-6.

Also keep in mind our Members Recital in May at Zion Church. Itís a 3 manual Austin and you can see the specs on our website. Start practicing!

I do hope to see many of you on February 13th.


Beverly Simmons, SPC
Dean, Central Hudson Valley AGO

Deadline for Next Newsletter

We are always glad to receive input for the chapter newsletter in the form of calendar items, reviews of recent concerts and events, biographies, letters, photographs, etc. In order to make sure these submissions can be processed in a timely fashion, please make sure they are received by the 23rd of each month. However, material such as calendar items may be submitted at any time; even if the material may not make it into the printed newsletter, it can be quickly posted on our web site at www.chvago.org.

You may submit newsletter or web site material by mail, e-mail, fax or phone. Just contact the editor, Susan LaGrande, using the information given above. Remember, the deadline for the next printed newsletter, to be available the first week in March, is February 23rd.

Editorís Corner

This newsletter is published by the Central Hudson Valley Chapter of the American Guild of Organists. The editor is:
Susan LaGrande
12 Montrose Lane
Wappingers Falls, NY 12590
Phone: 845-226-6496 (home) - Fax: 845-226-1035
e-mail: SUSANEL2@OPTONLINE.NET