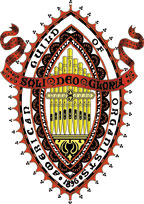 Newsletter
March 2011

Click here for the Newsletter Archive

Click here for a printable copy of the current newsletter



Dear Colleagues,

As the snow was falling the last week of February I was remembering the previous week when we had several days of glorious spring-like weather. It was really just a tease, but a very welcome one. Was the ground hog correct this year? Would we really have an early spring?

Did you know that a church festival was a time for a similar prediction? Those of you familiar with medieval liturgy may remember February 2nd was known as Candlemas. This was a festival to celebrate the presentation of Jesus in the Temple where he was greeted by Anna and Simeon. Simeon talks about Jesus being the ďlight to enlighten the nationsĒ so this festival has been associated with the use of candles since at least the 11th century. In England there was a saying:
If Candlemas day be sunny and bright,
Winter again will show its might.

So early or late we know spring will come. If you are looking for a good way to spend a Sunday afternoon while it is still winter, please come to the West Point Cadet Chapel on March 6 at 3 PM for a recital given by Meredith Baker (who is the organist at the Catholic Chapel on base.) Following the recital there will be a reception at the Catholic Chapel down the hill. Those who are attending the reception are asked, if possible, to bring either some cheese and crackers or perhaps some cookies to contribute to the festivities. Meredithís Mom will be setting up before the recital so you can drop things off before 2:30 or, since it will still be cool in your car, you can just bring them when you come. (If you canít bring something, come anyway!) [Board members: remember that we have a meeting after the reception.]

I hope you have all heard about the great honor that Paul Jacobs received. He was awarded a Grammy - the first organ soloist ever to receive one! It was for his recording of Messiaen: Livre du Saint-Sacrement (Naxos, 2010) made at the Church of St. Mary the Virgin in New York City. Many of us have heard him play either at St. Johnís Lutheran in Poughkeepsie or other local venues so we know he really deserves it.

Our March meeting is the Meredith Baker recital and we have nothing scheduled in April since most of us will be very busy with Holy Week and Easter. But donít forget to be planning for the May Members Recital on the 22nd. It will be here before you know it so start practicing!

Since both the Candlemas saying and the ground hog agree, letís hope for an early spring.



Beverly Simmons, SPC
Dean, Central Hudson Valley AGO

Membership News

The record label Delos just released a promotional video in their new "Delos Presents" series on artists & composers, featuring our own member Joseph Bertolozzi. While the video is primarily about 'Bridge Music," there are segments on Joe's choral and organ music as well, with pictures of him during his touring days playing at Wanamaker's, St. Peter's Basilica, etc. AND some shots of him leading local choirs.

Editorís Corner

This newsletter is published by the Central Hudson Valley Chapter of the American Guild of Organists. The editor is:
Susan LaGrande
12 Montrose Lane
Wappingers Falls, NY 12590
Phone: 845-226-6496 (home) - Fax: 845-226-1035
e-mail: SUSANEL2@OPTONLINE.NET

Deadline for Next Newsletter

We are always glad to receive input for the chapter newsletter in the form of calendar items, reviews of recent concerts and events, biographies, letters, photographs, etc. In order to make sure these submissions can be processed in a timely fashion, please make sure they are received by the 23rd of each month. However, material such as calendar items may be submitted at any time; even if the material may not make it into the printed newsletter, it can be quickly posted on our web site at www.chvago.org.

You may submit newsletter or web site material by mail, e-mail, fax or phone. Just contact the editor, Susan LaGrande, using the information given above. Remember, the deadline for the next printed newsletter, to be available the first week in April, is March 23rd.