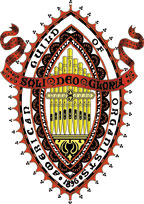 Newsletter
May 2011

Click here for the Newsletter Archive

Click here for a printable copy of the current newsletter



Dear Colleagues,

Passover is finished and Holy Week and Easter are behind us. Take a deep breath and realize that there is now light at the end of the tunnel! For most of us the approaching summer means a slightly lighter work load at church – at least once the choir "season" is over.

So now you can really concentrate on the Members Recital. It is coming up very shortly – on May 22 at 3 p.m. at Zion Episcopal Church. I am still waiting for YOU to contact me about the piece you are going to play. I must have that information at least a week prior to the recital. Several reminders:

During the week you can get in the church from Monday through Thursday from 8 AM to noon and 1 PM to 4:30 PM. Go to the house on the church property and you'll find the parish administrator, Chris, who can let you in.


Any other time you must contact Gregory Citarella (845-297-7693) and he can meet you there with the keys. You must be out of the building well before the alarm is set at 10 PM.


If you aren't going to play yourself, please plan on coming to support your colleagues. Bring friends!


If you do plan to come and can contribute finger food to our reception, please contact Barbara Bayers at 845-391-8479 and let her know what you can bring.


Remember that you need not play a complicated fugue of Bach to participate. All members are invited to play a piece. Choose one that you play well regardless of the level of difficulty.
Craig Williams has also planned a very worthwhile program for our June meeting. On June 12th we will meet at St. John's Lutheran in Poughkeepsie for a workshop from Jonathan Hall, FAGO. Craig has this to say about the workshop: "The emphasis of the workshop will be "Effective Repertoire for Playing Preludes and Postludes throughout the Liturgical Calendar – Accessible on a Part-Time Practice Schedule." There is not one member of our chapter, myself included, who does not need a primer on that timely subject. Hall seems to have made a point of developing a library of "real" music (from historical composers, not just the Morningstar crowd, etc.) that does not require as much practice as standard recital repertoire. I agree completely that we all need help with this. So put this on your calendar as well.
Finally, please keep Helen Schimpf in your prayers. She suffered a slight stroke a few weeks ago. That's all I know.
When we get a day with sunshine, take a few minutes to enjoy and smell the flowers.
See you on May 22nd.


Beverly Simmons, SPC
Dean, Central Hudson Valley AGO

Membership News

Gregory Citarella has a new e-mail address: gregory.citarella@gmail.com. Please make note of this for your records.

Deadline for Next Newsletter

We are always glad to receive input for the chapter newsletter in the form of calendar items, reviews of recent concerts and events, biographies, letters, photographs, etc. In order to make sure these submissions can be processed in a timely fashion, please make sure they are received by the 23rd of each month. However, material such as calendar items may be submitted at any time; even if the material may not make it into the printed newsletter, it can be quickly posted on our web site.

You may submit newsletter or web site material by mail, e-mail, fax or phone. Just contact the editor, Susan LaGrande, using the information given below. Remember, the deadline for the next printed newsletter, to be available the first week in June, is May 23rd.

Editor's Corner

This newsletter is published by the Central Hudson Valley Chapter of the American Guild of Organists. The editor is:
Susan LaGrande
12 Montrose Lane
Wappingers Falls, NY 12590
Phone: 845-226-6496 (home) - Fax: 845-226-1035
e-mail: SUSANEL2@OPTONLINE.NET