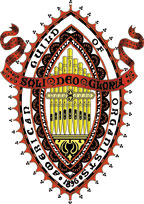 Newsletter
June 2011

Click here for the Newsletter Archive

Click here for a printable copy of the current newsletter



Dear Colleagues,

If you weren't at Zion Church on May 22 for our Members' Recital you missed a very good concert (and a delicious reception!). To the nine members who played, a big thank you. To those who brought goodies for the reception, they were much appreciated. The musical offerings, while mostly 19th and 20th century, couldn't have been more varied. They showed off the 100 year old organ very well. There were about 60 people in attendance.

Our next event is one that no one should miss. Are there any among us who have plenty of time to practice? Come to Jonathan Hall's workshop on "Full-Time" Music for Part Time Musicians. It is billed as an exploration of quality organ literature for the over-extended church organist. This will take place on Sunday, June 12 at 4 PM at St. John's Lutheran Church on Wilbur Blvd. in Poughkeepsie. (Thanks to Susan Guse for hosting us.)

I quote more from the press release that Craig sent out: Jonathan Hall is an organist, sacred musician, ASCAP composer and prolific writer for the American Organist, Diapason, Organ Historical Society and many other journals. He won the S. Lewis Elmer Award and is frequently sought as performer and workshop lecturer for AGO activities. As one who maintains a busy schedule, he has made extensive studies in researching and finding quality historical and contemporary organ literature of easy to medium difficulty suitable for the dignity of church services. This repertoire will be the workshop's focus.

Finding enough good repertoire that fits my technique and practice schedule is always a challenge so I am really looking forward to this workshop. Thanks to Craig for arranging it.

See you there!



Organ for Sale

Conn 3 manual Theatrette 580-Type 2 organ. For detailed information and price, please contact the owner, Betty Cole, at 845-876-0262.

Deadline for Next Newsletter

We are always glad to receive input for the chapter newsletter in the form of calendar items, reviews of recent concerts and events, biographies, letters, photographs, etc. In order to make sure these submissions can be processed in a timely fashion, please make sure they are received by the 23rd of each month. However, material such as calendar items may be submitted at any time; even if the material may not make it into the printed newsletter, it can be quickly posted on our web site.

You may submit newsletter or web site material by mail, e-mail, fax or phone. Just contact the editor, Susan LaGrande, using the information given above. Remember, the deadline for the next printed newsletter, to be available the first week in July, is June 23rd.
Editor's Corner

This newsletter is published by the Central Hudson Valley Chapter of the American Guild of Organists. The editor is:
Susan LaGrande
12 Montrose Lane
Wappingers Falls, NY 12590
Phone: 845-226-6496 (home) - Fax: 845-226-1035
e-mail: SUSANEL2@OPTONLINE.NET