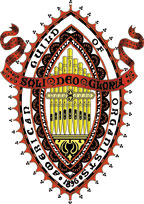 Newsletter
July 2011

Click here for the Newsletter Archive

Click here for a printable copy of the current newsletter



Dear Colleagues,

I just had a most extraordinary week in Tennessee visiting my adopted twin grandchildren for the first time. My head is still spinning!

Our workshop with Jonathan Hall was very informative and helpful. We had a good turnout of almost 20 people so it was obviously a topic everyone was interested in.

Hopefully you are slowing down a bit for the summer and thinking of picnics Ė like the chapter picnic on July 17th at the home of Eric Hepp at 24 Lor Mar Court in Wappingers Falls. We will begin at 3:00 PM. The meat for grilling will be furnished but we each need to bring something to contribute - a salad or dessert would be great. If you have any questions please call Eric at 845-790-3381. I do hope you will take advantage of this opportunity to come and socialize with your colleagues. Itís one of the few opportunities we have to get together and just be friends.

Grace Haack and I are heading off to Morristown, New Jersey next week for the AGO Regional Convention. Such gatherings are always enjoyable (lots of concerts) and helpful (workshops and anthem reading sessions). Come to the picnic and ask us about it!

I hope you will each have time to get away and do something different this summer. Then when you return everything will seem fresh and youíll (hopefully) be ready to delve into your music again.

See you at the picnic!


Beverly Simmons, SPC
Dean, Central Hudson Valley AGO
Directions to Eric Hepp's House:

Southbound from Mid-Hudson Bridge:
Take Rte 9 South for 9 miles, past IBM, shopping malls, and car dealers. Move to the left lane when you get to Home Depot. Turn LEFT (East) onto CR-93 [MYERS CORNERS RD] and proceed for 2.8 miles. Turn LEFT (North) onto LOR-MAR COURT FOR 0.1 mile. Eric's house is on the right.

Northbound from Newburgh-Beacon Bridge:
Take NY Rte-9D North for 5.8 miles. Turn RIGHT (West) onto CR-93 [MIDDLEBUSH ROAD, which becomes MYERS CORNERS RD at ROUTE 9] and proceed for 3.6 miles. Turn LEFT (North) onto LOR-MAR COURT FOR 0.1 mile. Eric's house is on the right.

Deadline for Next Newsletter

We are always glad to receive input for the chapter newsletter in the form of calendar items, reviews of recent concerts and events, biographies, letters, photographs, etc. In order to make sure these submissions can be processed in a timely fashion, please make sure they are received by the 23rd of each month. However, material such as calendar items may be submitted at any time; even if the material may not make it into the printed newsletter, it can be quickly posted on our web site at www.chvago.org.

You may submit newsletter or web site material by mail, e-mail, fax or phone. Just contact the editor, Susan LaGrande, using the information given above. Remember, the deadline for the next printed newsletter, to be available the first week in August, is July 23rd.

Editorís Corner

This newsletter is published by the Central Hudson Valley Chapter of the American Guild of Organists. The editor is:
Susan LaGrande
12 Montrose Lane
Wappingers Falls, NY 12590
Phone: 845-226-6496 (home) - Fax: 845-226-1035
e-mail: SUSANEL2@OPTONLINE.NET