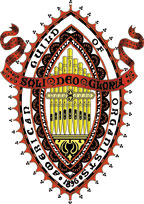 Newsletter
August 2011

Click here for the Newsletter Archive

Click here for a printable copy of the current newsletter



Dear Colleagues,

We had a relaxing picnic at Ericís house on the 17th. It was great to connect and just have a chance to chat. The food was excellent. Thank you to all who contributed. And a big THANK YOU to Eric for hosting. We missed some of you. I hope you were away getting some well deserved rest.

Even though it is summer time and the living is easy, I do need to mention two items that have to do with money. First, it is that time of year again when dues are due. You will find else where in this newsletter a form which can be printed out and mailed in with your check to Eric Hepp. Please do this right away. Every year we have stragglers which make the treasurerís job much harder than it should be. And if it isnít in by a certain date then you may miss copies of TAO. So why not do it today while you are thinking of it.

Secondly, I would encourage you to consider a gift, even a small one helps, to the AGO Annual Fund or the Endowment Fund. If you still have your June TAO you can find information about these funds on p.41 as well as an envelope in the magazine to facilitate sending in a gift. My yearly gift is not large, but I know that every bit helps. Without these funds the National Guild canít do its work. While part of our dues does go to National, it is not enough to sustain all the work it does. It helps provide educational opportunities, career development and support as well as advocacy of the arts in general and the organ in particular.

The Convention in Morristown was excellent as always and attended by about 200 people. We heard many fine organists, both established and upcoming, play on a number of fine instruments. There were many excellent workshops to choose from as well. I always try to attend at least one publisherís choral reading session. I made it to several this time and came away with a number of ideas for anthems for next year.

For those who like to plan ahead: next year we have a National Convention in Nashville, TN. The dates are July 1-6, 2012. For those who prefer to stay closer to home, the next Regional Convention in 2013 is in Hartford, CT. The dates for that one are June 30 Ė July3, 2013.

Enjoy the rest of your summer!


Beverly Simmons, SPC
Dean, Central Hudson Valley AGO

Membership Application

Included in this monthís newsletter is a membership application form for the upcoming 2011-2012 year. Please be sure to complete the form and send it, along with your check, to:
Central Hudson Valley Chapter, AGO
Eric R. Hepp, Treasurer
24 Lor-Mar Court
Wappingers Falls, NY 12590
We are a little late in distributing the form this year, so please help us out by submitting your form as soon as possible. Click here for a link to a printable form.

Deadline for Next Newsletter

We are always glad to receive input for the chapter newsletter in the form of calendar items, reviews of recent concerts and events, biographies, letters, photographs, etc. In order to make sure these submissions can be processed in a timely fashion, please make sure they are received by the 23rd of each month. However, material such as calendar items may be submitted at any time; even if the material may not make it into the printed newsletter, it can be quickly posted on our web site at www.chvago.org.

You may submit newsletter or web site material by mail, e-mail, fax or phone. Just contact the editor, Susan LaGrande, using the information given above. Remember, the deadline for the next printed newsletter, to be available the first week in September, is August 23rd.

Editorís Corner

This newsletter is published by the Central Hudson Valley Chapter of the American Guild of Organists. The editor is:
Susan LaGrande
12 Montrose Lane
Wappingers Falls, NY 12590
Phone: 845-226-6496 (home) - Fax: 845-226-1035
e-mail: SUSANEL2@OPTONLINE.NET