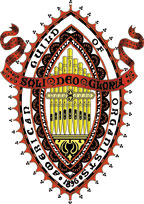 Newsletter - April 2002

Click here for the Newsletter Archive



Letter from the Dean
It's hard to believe that Easter has come and gone. It's amazing to me just how fast the church year can go once the summer is over. Is that a good thing, or a bad thing? It's nice that the sheer mayhem of rehearsals, performances and services is done, but preparation for next year is almost upon us. Besides the summer conventions and seminars that we can go to, our chapter is sponsoring a choral reading workshop in May – read on in the newsletter for details – it will be an excellent opportunity for you to look over some prospective choir music!
Don't overlook Cynthia Powell's recital on April 14th at Grace Episcopal in Middletown – that's the next chapter event.
If it's recitals you like, then opportunities abound. I will be presenting my very first organ recital on April 21st at 3 p.m. at First Presbyterian Church in Monroe. Polly James will be doing a recital on May 19th, and of course the greatest opportunity available to ALL of us is the Annual Members' Recital on June 9th. See the Calendar of Events section for further details.
Finally spring training is over, and it's time to PLAY BALL! Which means it's almost time for Band Softball. We hope for a better showing at softball than at basketball. The band basketball team had an unblemished record. O-fer… See you soon!

Editor's Corner
This newsletter is published by the Central Hudson Valley Chapter of the American Guild of Organists. The editor is:
Susan LaGrande
12 Montrose Lane
Wappingers Falls, NY 12590
Phone: 845-226-6496 (home)
Fax: 845-226-3248
e-mail: SUSANEL2@HOTMAIL.COM
All material in this newsletter (except for lists of members' addresses and phone numbers) is available on our web site at www.chvago.org
Newsletter Items Wanted
Contributions to this newsletter are always welcome. We have been very pleased to offer a member profile in previous issues. If you would like to be profiled, you may write your own biography (up to 500 words) or contact the editor to arrange an interview.
We also solicit news of upcoming events for our Calendar page, as well as reviews, particularly of recent chapter events. Articles and news items may be submitted to the editor by mail or by e-mail at the address above. Articles may be edited for length or clarity.
About Our Web Site
We are certainly pleased with the response to our new web site, and we encourage everyone to visit it frequently to keep up with periodic updates and improvements. Once again this newsletter (as well as previous issues) is available on the web site. However, please be aware that while the entire text of the newsletter is reproduced on the web site, some sections have been split off into separate web pages. For example, the List of Substitutes is accessible from the Home Page by clicking on the "Sub List" button. This not only avoids duplication of this information across multiple issues of the newsletter, but also makes it easier for a visitor to find it.
Be sure to spread the word about our web site among fellow organists, other musicians, students, and members of the clergy, so that our web site can serve as wide an audience as possible.
Cynthia Powell in Recital at Grace Episcopal Church, Middletown

(Click thumbnail for larger image)
Organist Cynthia Powell will play works by Bach, Vierne, Messiaen, and Bolcom in a recital on Sunday, April 14, at 4:00 PM at Grace Episcopal Church, 58 North Street, Middletown.
Cynthia Powell is a native of Middletown who started her musical training at the age of eight with Morris Borenstein, a Julliard-trained pianist who still maintains an active teaching schedule in Middletown. Ms. Powell's love for the organ began in the 1960's when she became active in Grace Episcopal Church. She continued her organ studies at Westminster Choir College and did post-graduate work in organ and choral conducting at Manhattan School of Music.
She has held numerous positions in churches and synagogues in the New York/New Jersey metropolitan area and has concertized as an organist, conductor, and pianist in the United States and abroad. She is currently the Music Director of Christ Church, Ridgwood, NJ, and Temple Sinai, Tenafly, NJ.

Directions to Grace Episcopal Church, Middletown
From points east, south and north:

Take Rte I-84 to Exit 3W (Rte 17M, Middletown)
Proceed on Rte 17M . At the 7th traffic light, turn left onto Fulton Street
Proceed on Fulton Street. At the 2nd traffic light, turn right, up the hill, onto South Street
Proceed on South Street, which will eventually become North Street. Grace Church is on the corner at the 2nd light
Parking: Park on the left, past the church, OR turn left at the traffic light by the church; there is a parking lot in the next block. Enter by the Parish Hall door at the rear of the church.
Card of Thanks
Dear Chapter Friends,
Many, many thanks for the beautiful flowers, your calls and cards from near and far. Your special thoughts and prayers touched me deeply and are so much appreciated.
With supplements and healthy diet – having chosen the alternative way – I am doing fairly well and hope to be serving from that certain bench for some time.
Looking forward to seeing you soon again and having an enjoyable time.
Sincerely,
Margaret Pecoraro
Need an Organ?
Pump Reed Organ for Sale
Cabinet and keyboards in excellent condition. Needs minor repair to work. $300.00 For information, call Greg Citarella at: 845-297-7693.

Allen digital electronic organ available - FREE
A 25-year-old Allen Organ is available at the Culinary Institue, Hyde Park. The present owners would like to donate the organ to a church or other charitable institution. The organ must be removed before April 8 because renovation begins on that date. One moving firm has quoted a price of $1,700 to remove it to a storage area. Contact: Rebecca Oetjen, 845-451-1297.

Allen Model 600 Electronic Organ
Now that the Hyde Park Dutch Reformed Church has restored its Odell tracker organ, it is seeking to dispose of its Allen Model 600 electronic organ. This instrument is about 25 years old. It has about 30 ranks, 2 manuals and pedal, and external speakers. It was serviced in January of 2002 by the manufacturer's representative. Case is walnut. Price is $2,500 or best offer. Removal is the buyer's responsibility. Contact: Phyllis Chrisfield, 845-452-8517 or e-mail: K-GChrisfield@juno.com
Membership Updates
Welcome to our newest member!
Robert D. Brown
30 Orchard Park
Poughkeepsie, NY 12603-4838
845-463-0723
E-mail: robrown@vassar.edu
List of Organ Substitutes

Click here for the Newsletter Archive