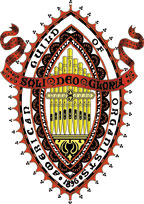 Newsletter - April 2003

Click here for the Newsletter Archive



Letter from the Dean
It's been a busy time. I'm happy to report that we successfully celebrated J.S. Bach's birthday with Pat Maimone's annual concert. Unfortunately, I couldn't stay for cake and ice cream — I had to get "Bach" to work…
I was pleased to have been able to attend Aaron David Miller's concert at St. John's Evangelical Lutheran Church in Poughkeepsie — a wonderful program indeed. The highlight for me was the four movement improvised organ symphony to end the concert.
We had about 15 folks at our March meeting in Cornwall — Craig Williams led a program on "Conducting from the Console." Click here for a review of the event.
This year's Members' Recital will be held at St. John's Evangelical Lutheran Church in Poughkeepsie starting at 7:30 on Friday, May 2nd. Not only will we be commemorating our chapter's 50th anniversary, but we will be starting a scholarship fund in memory of Margaret Pecoraro. Right now, there is plenty of room for YOU to play at the recital.
If you are not available to play, you can still lend your support — since it's our 50th anniversary, we would like to sell advertising space in the program. Surely we all know at least one business that would like a little more advertising! Click here for a printable flyer to copy and show to prospective customers. All the proceeds from the recital will be used to start the scholarship fund.
If you would like to play at the Members' Recital, please contact Mary Caskey, who will be coordinating the program. For practice time and availability, please coordinate directly with Susan Guse; click here for details. I would encourage us all to help get the word out about the Members' Recital by having an announcement put in our church's bulletin and/or church newsletter. There's nothing more discouraging than spending lots of time and energy to plan a great event, and then having very few people attend. Along those lines, please let Susan LaGrande know about YOUR concerts and recitals so we can support our fellow chapter members' events.
See you at the Members' Recital!!

Membership Updates
Practice Schedule for Members' Recital
The following table shows when the organ at St. John's Evangelical Lutheran Church in Poughkeepsie is available for practice. Please call Susan Guse at 845-227-7696 to reserve a practice time. Be sure to call the church at 845-452-1550 before arriving at the church to check for last-minute conflicts, and to have someone let you in.
Mon 4/21
9 AM to 4 PM
Sun 4/27
3 PM to 5 PM
Tues 4/22
9 AM to 9 PM
Mon 4/28
9 AM to 4 PM
Wed 4/23
9 AM to 4 PM,
7 PM to 9 PM
Tues 4/29
9 AM to 9 PM
Thur 4/24
9 AM to 9 PM
Wed 4/30
9 AM to 4 PM,
7 PM to 9 PM
Fri 4/25
9 AM to 4 PM,
7 PM to 9 PM
Thur 5/1
9 AM to 4 PM
Sat 4/26
Not Available
Fri 5/2
9AM to 4 PM
Directions to St. John's Evangelical Lutheran Church, Poughkeepsie
From the Mid Hudson Bridge: After crossing the bridge, continue on Rte 44-55 East through 10 traffic lights. The eleventh traffic light should be Grand Avenue. Turn right onto Grand Avenue and go through two lights (Fulton Avenue and College Avenue). The third light will be Hooker Avenue, where you will turn left. Then take the second right onto Wilbur Boulevard, opposite the Chinese take-out. St. John's is on the left about a quarter- to a half-mile down the road. Ample parking is provided in a well-lighted lot. There will be signs to direct you to the meeting location.
From the north: Take Rte 9 south to Rte 44-55 east and follow above directions.
From the south: Take Rte 9 north to Rte 44-55 east and follow above directions.
From the east: Take Rte 44-55 West to Raymond Avenue. Turn left on Raymond and go to the end of the street. Turn right onto Hooker Avenue and proceed about half a mile to Wilbur Boulevard, which is the third "real" left, opposite the same Chinese take-out mentioned above.
In Case You Missed It...
by Susan LaGrande
On Monday, March 17, members gathered at Cornwall United Methodist Church to participate in a workshop on "Conducting from the Console." I confess that on the way to the workshop I was thinking, "Well, what is there to conducting from the console? Don't you just wave your left hand in the air while playing left-hand notes with the right hand and/or pedal (or omitting them)?" Not according to Craig Williams, Director of Music at the Cadet Chapel, USMA, West Point. In fact, that's the last thing you do.
Craig started the workshop by getting off the organ bench and leading a ten-minute unaccompanied warmup, which began with posture and breathing and progressed to rhythm and finally phonation. Aside from warming up the vocal instrument, this gives the choir a preview of the conductor's cues, including the "breathe" cue, which was new to me. Craig stressed the importance of getting off the bench frequently during rehearsals to work with the choir face to face. Modeling desired behavior is crucial, he said, particularly in posture, breathing, and vowel formation.
The three anthems which Craig distributed were familiar: Mozart's Ave Verum Corpus, Shaw's With a Voice of Singing (which I hadn't sung in about forty years), and Wesley's Lead Me Lord. He used these to demonstrate entrances, tempo, dynamics, and cutoffs, mostly using subtle body language rather than hands or head movements. (He cautioned that excessive head movements might choke off the voice, which can be disastrous if your choir follows your example.) In all of this, the hands should remain on the keys, playing the notes that you have so conscientiously practiced beforehand.
When circumstances permit, for instance in the Shaw piece where there are two or three measures of rests in the accompaniment, it is desirable to give your choir your full attention and conduct with both hands. In that case, the hands will probably have to be raised to or above shoulder level to be visible above the desk, but otherwise, as in rehearsal, Craig said that hands should be kept low to avoid choking off the voice. In conclusion, Craig emphasized that preparation is essential, but so is flexibility; if at the last minute you don't feel confident that you and/or your choir can bring off the piece you have rehearsed, be willing to put it aside and use something else.
2003-2004 Membership Drive Announced
Next month's newsletter will include an application form for 2003-2004 membership in the Central Hudson Valley chapter of the American Guild of Organists. The deadline for sending dues to Mary Caskey always seems to be gone before we know it, so this year let's all try to get our dues in early. Remember that if you miss the deadline, you are likely to miss a couple of issues of The American Organist magazine.
Just to give you a taste of the good things coming up next season, here is a list of programs that the board is working on:
September

Vespers Service, followed by reception. Members of the clergy from as many different churches as possible will be invited to participate, to foster good relationships between organists and clergy.

October

Program on Building Children's Choirs

November

Two events are planned:

Program on Financial Planning for Organists.

Learn how your status as an employee or independent contractor can affect your investment strategies and your tax planning.

Pedals, Pipes, Pizza

Once again we will invite piano teachers to bring their students to one of two locations to try out a favorite piano piece on the organ. It's a great way to attract young organists and was very successful this past year.

December

no program planned -- Merry Christmas!

January

Annual Spuds & Sundaes Social, this time with spouses/guests invited. Once again the popular musical bake sale will take place.

February

snow date for Spuds & Sundaes

March

Organ Crawl in New York City

April

Young Artist Recital. We plan to invite one of the contestants in this year's Quimby competition

May

Introduction to Liturgy for the Non-Liturgical Organist. What if your experience has been in Presbyterian or Reformed churches and you are asked to play a Catholic Mass? This program will help you be prepared.

June

Members' Recital

July

Annual Picnic
We hope this list will spark your interest in renewing your own membership, and that you will use it as a recruiting tool with colleagues who have not yet joined. Extra copies of the application will be available on our web site, or contact Susan LaGrande at 845-226-6496 or e-mail SUSANEL2@HOTMAIL.COM.

Organ Teachers Identification Project

So far we have received no replies to our request last month for information about members who offer organ lessons. This information is frequently asked for, so please take the time to call or send a note to the editor, Susan LaGrande, at 845-226-6496 or e-mail SUSANEL2@HOTMAIL.COM.

AGO National Competition in Organ Improvisation Announced

The American Guild of Organists (AGO) has announced the 2004 National Competition in Organ Improvisation (NCOI). The competition will be held in three rounds, adjudicated by a distinguished panel of judges. The first round will be conducted by recording; semifinal and final rounds of the competition will be held in Los Angeles, Calif., in conjunction with the biennial National Convention of the AGO, July 4ñ9, 2004. Cash prizes will be awarded to the top three performers: First Prize, $2,000, provided by the Holtkamp Organ Company; Second Prize, $1,500, provided by Dobson Pipe Organ Builders; and Third Prize, $750, provided by Mary Louise Herrick, AAGO, Chairman. Complete details can be found in the April issue of The American Organist Magazine, and on the AGO Web site, www.agohq.org. To request a competition application, please call 212-870-2310 or e-mail competitions@agohq.org.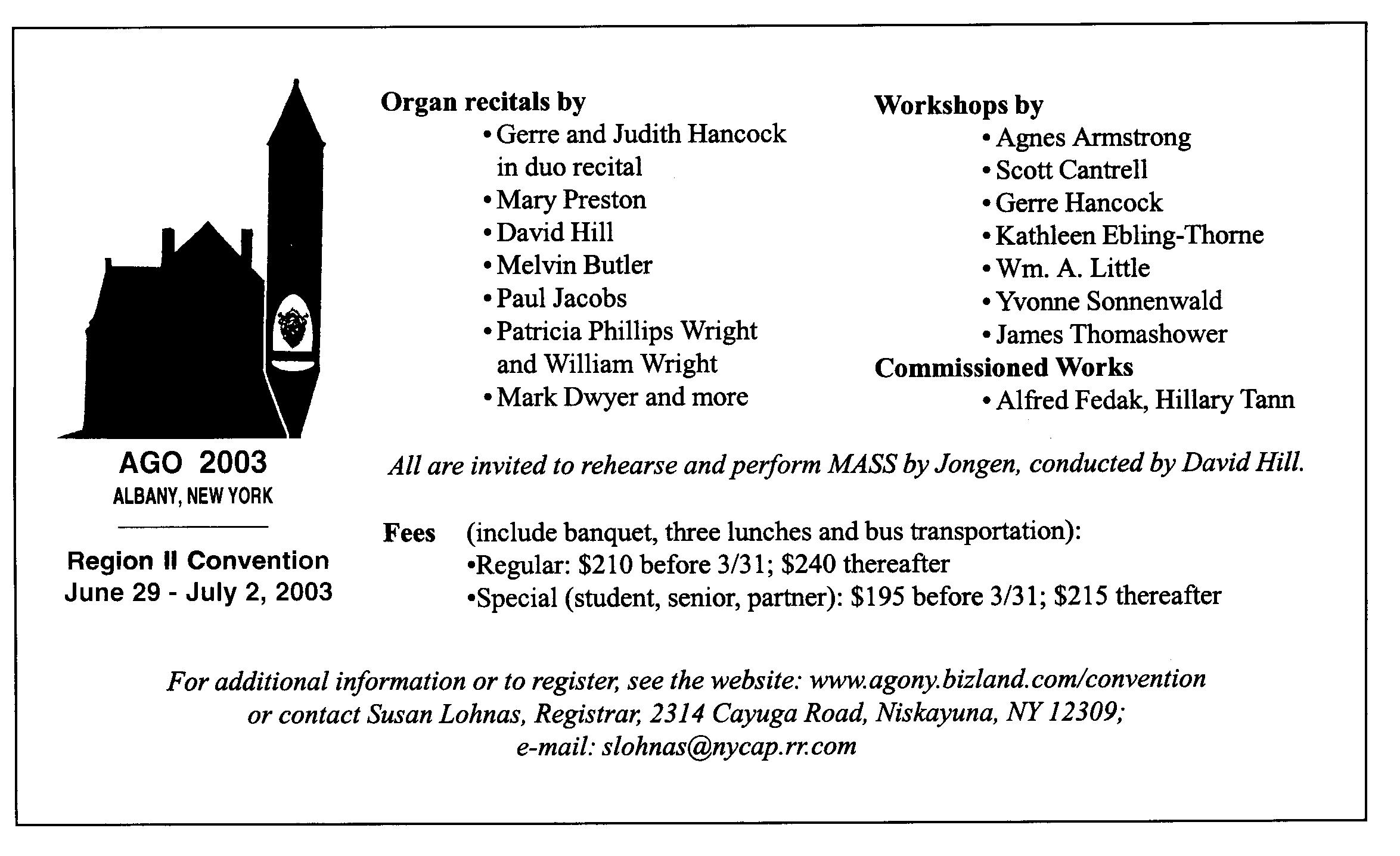 Editor's Corner
This newsletter is published by the Central Hudson Valley Chapter of the American Guild of Organists. The editor is:
Susan LaGrande
12 Montrose Lane
Wappingers Falls, NY 12590
Phone: 845-226-6496 (home)
Fax: 845-226-1035
e-mail: SUSANEL2@HOTMAIL.COM
All material in this newsletter (except for lists of members' addresses and phone numbers) is available on our web site at www.chvago.org
Newsletter Items Wanted
Contributions to this newsletter are always welcome. We have been very pleased to offer a member profile in previous issues. If you would like to be profiled, you may write your own biography (up to 500 words) or contact the editor to arrange an interview.
We also solicit news of upcoming events for our Calendar page, as well as reviews, particularly of recent chapter events. Articles and news items may be submitted to the editor by mail or by e-mail at the address above. Articles may be edited for length or clarity.
About Our Web Site
We are certainly pleased with the response to our web site, and we encourage everyone to visit it frequently to keep up with periodic updates and improvements. Once again this newsletter (as well as previous issues) is available on the web site. However, please be aware that while the entire text of the newsletter is reproduced on the web site, some sections have been split off into separate web pages. For example, the List of Substitutes is accessible from the Home Page by clicking on the "Sub List" button. This not only avoids duplication of this information across multiple issues of the newsletter, but also makes it easier for a visitor to find it.
Be sure to spread the word about our web site among fellow organists, other musicians, students, and members of the clergy, so that our web site can serve as wide an audience as possible.