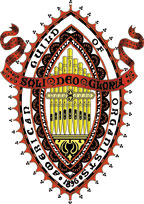 Newsletter - August 2002

Click here for the Newsletter Archive



Letter from the Dean
If you missed the annual picnic, you missed a great event. Great weather, good food, gracious host and a nice turnout. Greg Citarella, thanks again for opening your home and allowing us to play in your music room. A "Certificate of Appreciation" was presented to Susan LaGrande in recognition of her continuing service to the chapter.
If you have not paid your 2002-2003 dues yet, you need to do that ASAP so we can try to keep your TAO subscription from being interrupted.
Convention planning is getting underway -- as news happens it will be published in the newsletter and posted on the website. Speaking of the website, if you find yourself having trouble accessing the website, please let Susan LaGrande know so she can get your name back on the mailing list for the newsletters.
Keep your eyes on the upcoming events section, and please support our membership when you can by attending their programs.
For the first time in my 8 seasons of USMA Band softball, I am pleased to announce that we are the regular season division champs finishing with a 10-4 record. The bad part is that we haven't played in a month, so we'll be rusty for the playoffs, but we can at least gloat about the headlines in the West Point weekly paper up through this point!
Have a safe summer ñ see you in September

Membership Updates
Lois Hoger has a new e-mail address:
thelois@juno.com
Alice Cann has a new e-mail address:
amcann@frontiernet.net
Al Reese has a new e-mail address:
aloreese@hvc.rr.com
Greg Citarella has accepted a position as organist at St. Nicholas Episcopal Church in New Hamburg, NY. Accordingly, he will now be available as a substitute only for weddings and funerals.
The Rev. Kenneth Byerly has taken an interim position at Germonds Presbyterian Church in New City, Rockland County. We wish him well! His new address is:
29 Kings Highway
New City, NY 10956
Cell phone: 845-300-0202
E-mail: kbbyerly@aol.com

Kevin Donnelly will be leaving soon to attend Lawrence University in Wisconsin. He will be majoring in music education with an emphasis on voice and organ. Good luck, Kevin!
Election Results
As a result of the elections held in the spring, the slate of chapter officers for the 2002-2004 term is as follows:
| | |
| --- | --- |
| Dean | Alan D. Reese |
| Sub-Dean | John Sullivan |
| Secretary | Susan E. LaGrande |
| Treasurer | Mary S. Caskey |
| Professional Concerns | Denise Levine |
| Member-at-Large | Donald Filkins |
| Member-at-Large | Susan Guse |
Photographs from the Annual Picnic
(Click thumbnails for larger image)
| | | |
| --- | --- | --- |
| | | |
| | | |
| | | |
| | | |
Editor's Corner
This newsletter is published by the Central Hudson Valley Chapter of the American Guild of Organists. The editor is:
Susan LaGrande
12 Montrose Lane
Wappingers Falls, NY 12590
Phone: 845-226-6496 (home)
Fax: 845-226-1035
e-mail: SUSANEL2@HOTMAIL.COM
All material in this newsletter (except for lists of members' addresses and phone numbers) is available on our web site at www.chvago.org
Newsletter Items Wanted
Contributions to this newsletter are always welcome. We have been very pleased to offer a member profile in previous issues. If you would like to be profiled, you may write your own biography (up to 500 words) or contact the editor to arrange an interview.
We also solicit news of upcoming events for our Calendar page, as well as reviews, particularly of recent chapter events. Articles and news items may be submitted to the editor by mail or by e-mail at the address above. Articles may be edited for length or clarity.
About Our Web Site
We are certainly pleased with the response to our web site, and we encourage everyone to visit it frequently to keep up with periodic updates and improvements. Once again this newsletter (as well as previous issues) is available on the web site. However, please be aware that while the entire text of the newsletter is reproduced on the web site, some sections have been split off into separate web pages. For example, the List of Substitutes is accessible from the Home Page by clicking on the "Sub List" button. This not only avoids duplication of this information across multiple issues of the newsletter, but also makes it easier for a visitor to find it.
Be sure to spread the word about our web site among fellow organists, other musicians, students, and members of the clergy, so that our web site can serve as wide an audience as possible.