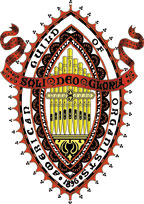 Newsletter - August 2003

Click here for the Newsletter Archive



Letter from the Dean
OK, give the sub-dean a moment to write a few paragraphs, and he gets silly… I spent three weeks in Wisconsin, at Concordia University in Mequon. For those of you keeping score at home, this was my third summer of classes — just one more summer to go! I keep wanting to say "Behold, the power of cheese!", but you'll be happy to know that I haven't brought back a cheese-head hat yet, like you see at all the Green Bay Packers games. Two weeks of "Issues in Church Music" (who knew we had issues?) and Composing and Arranging, followed by a week of Composing for Handbells with Arnold Sherman. Had a great time, and learned lots. My Finale skills have improved ten-fold! My wife Lois flew out to meet the class and to spend the 4th of July weekend, so we had a good time reliving "dorm life." My class presented one of our professors with his very own "Martin Luther Bobblehead Doll." No, I am not making this up — go to www.oldlutheran.com and you too can have your favorite reformer shaking his head at you. And keep the plastic packing material — it makes a great jell-o mold for your Reformation day luncheon!
Our thanks to Susan LaGrande for hosting the annual picnic. If you were unable to attend, you missed a great time. Whoever thought cactus tasted that good — and not the least bit dry! Mary Caskey was presented with the Dean's Certificate of Appreciation for all that she does for our chapter. We chose well, the weather was absolutely beautiful! It was good to hear that the convention in Albany was a good experience for those who went. Speaking of regional conventions, our 2005 committees are not totally full yet, there is still room for a few more folks! If for some reason you have not yet been contacted, please notify one of the board members and let them know how and where you'd be willing to help.
We're taking August off as far as chapter programs go, but be ready to pick up in September. We're looking for a venue, but the next event, the first one of the season will be an Evensong Service on Friday, September 19th starting a 7:30 PM, followed with a wine and cheese reception. Our idea is for this to be an "organist and their clergy" event, so be ready to ask your clergy to at least attend, if not participate — specific details will be coming.
Be sure to take a look at the "upcoming events" — though it's summer, there's still many concerts going on all around us.
If you haven't sent in your dues yet, you'll want to send them in right away so you don't miss any issues of TAO.
Keep rooting for the Band softball team — we're actually doing pretty well!

From the Convention Coordinator's Corner
July has not been a lazy, hazy time for your hard working convention committee. Crazy, maybe. Lazy, definitely not. The program committee is fine tuning some really exciting possibilities for performances and workshops. Hospitality has lovely experiences in store. Unfortunately, until headquarters approves our plans, they must remain confidential, so I can't put them out in this public forum. (I do not like cloak and dagger stuff any better than you do, but there are compelling reasons for the discretion).
What we found out at our last steering committee was that we will need some money to pull this effort off - probably a good deal more than we can expect to collect just from registration fees. But not to panic! While many folks were relaxing in their air conditioning, watching the ball game or the latest remake of Beau Geste, your gifts and grants committee, along with the treasurer and coordinator, were slaving away in a hot choir room, seeking solutions for this thorny fiscal dilemma. Actually, our financial guru feels we have a very manageable situation. But it will still need work. What we're asking each of you to do is fairly easy. Can you look around your circle of friends, associates and fellow church members and ask yourself: Who do I know that is in a position to lend financial support to this project? Who is really supportive of the arts in some way? You don't have to do the dirty work. We will. If you can identify the individuals, someone from the committee will approach them tactfully and offer them the opportunity to underwrite a performance, or some other aspect of the convention, in whole or in part. It's that simple. Forward your thoughts to me, Rob Brown, or Maris Kristapsons.
Finally, you should know who your hard working convention folks are. Here is the latest list of committee heads:
Feel free to call on any and all with your suggestions and questions. We are interested in everyone's input.
Hope to see you in September at the vesper service.
John Sullivan
Membership Updates
The deadline for sending in your dues has now officially passed, but we will still be glad to receive your completed application form (with check attached, of course). Members who renew late should be aware that their subscription to The American Organist may be interrupted.
The following is a list of members whose dues have not yet been received:
Boyd Herforth
Charles Faverio
Clara Miller
Al Schroer
Glenn May
Maris Kristapsons
Maria Rivera-White
Will Carter
Denise Levine
Terry Earles

If your name appears on this list in error, please accept our apologies. We're glad you're back.
Scholarship Fund Still Accepting Donations
Our treasurer, Mary Caskey, reports that donations to the Margaret Pecoraro Memorial Scholarship Fund now total about $650. We are grateful to all donors, and we encourage any of you who have not yet contributed to do so. The fund may be used, at the discretion of the chapter, for organ lessons, AGO membership, or stipends for organ students, all for the purpose of encouraging young people to take an interest in the King of Instruments. Mail donations to: Mary S. Caskey, Treasurer; PO Box 363; Cornwall-on-Hudson, NY 12520-0363.
Editor's Corner
This newsletter is published by the Central Hudson Valley Chapter of the American Guild of Organists. The editor is:
Susan LaGrande
12 Montrose Lane
Wappingers Falls, NY 12590
Phone: 845-226-6496 (home)
Fax: 845-226-1035
e-mail: SUSANEL2@HOTMAIL.COM
All material in this newsletter (except for lists of members' addresses and phone numbers) is available on our web site at www.chvago.org
Newsletter Items Wanted
Contributions to this newsletter are always welcome. We have been very pleased to offer a member profile in previous issues. If you would like to be profiled, you may write your own biography (up to 500 words) or contact the editor to arrange an interview.
We also solicit news of upcoming events for our Calendar page, as well as reviews, particularly of recent chapter events. Articles and news items may be submitted to the editor by mail or by e-mail at the address above. Articles may be edited for length or clarity.
About Our Web Site
We are certainly pleased with the response to our web site, and we encourage everyone to visit it frequently to keep up with periodic updates and improvements. Once again this newsletter (as well as previous issues) is available on the web site. However, please be aware that while the entire text of the newsletter is reproduced on the web site, some sections have been split off into separate web pages. For example, the List of Substitutes is accessible from the Home Page by clicking on the "Sub List" button. This not only avoids duplication of this information across multiple issues of the newsletter, but also makes it easier for a visitor to find it.
Be sure to spread the word about our web site among fellow organists, other musicians, students, and members of the clergy, so that our web site can serve as wide an audience as possible.