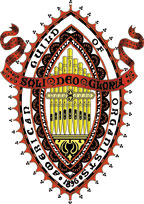 Newsletter - December 2001

Click here for the Newsletter Archive



Letter from the Dean
I hope that everyone is enjoying what 'Old Man Winter' is treating us to at the moment. I'm just worried that the temperatures in January and February will be brutally cold to even out the current balmy trend!
Timing is everything. It just so happened that the first month of our chapter web site's existence is the moment that a US Post Office machine has my newsletter for breakfast. But now I don't have to worry about that, because the newsletter is available online at our web site – www.chvago.org. If you haven't visited it yet (or in awhile) please do because it is a work in progress. Susan LaGrande continues to work on the layout and content to make it 'visitor-friendly." I'm sure she would appreciate your comments and suggestions regarding the web site. As an added bonus, you can find a picture of yours truly if you click on my name in the chapter officer's page. Ahhhhhh – a real treat for the eyes!
Nothing new to report yet on the possibility of hosting the 2005 Regional Convention. We're waiting for National to provide us with a new edition of their information packet. You will know all the facts as we get them. Hosting a convention will require a large commitment by our chapter, but if we are successful, it will be a tremendous boost to not only to our chapter but to our community as well. We feel that our area has too much to offer not to make an attempt to do this. We will not formally commit to hosting unless we know we have all the required resources. I hope all of you will accept the challenge to support this wonderful opportunity when asked to help.
Thanks to Craig Williams for hosting the November event, an organ crawl of the West Point Cadet Chapel organ. For those who couldn't make it, you really missed a good one – the door prize was an entire 25 rank division that Craig never uses. I hope he doesn't notice that it's missing! A good time was had by all, and most folks were able to take advantage of the opportunity to play the organ. Mendelssohn was a popular choice – we (collectively) played almost an entire sonata!
I followed that up with the chance to sing in the chorus for a performance of Part I of the Messiah (plus the Hallelujah chorus) the day after Army soundly beat Navy. What a great way to start the advent season!
The improvisation course being led by Don Filkins is on a "break" until January. Speaking of January, the next chapter event is our annual "Spuds and Sundaes" social and will again be at the Dubois House of the First Reformed Church in Fishkill. This will be a chance for us to clean out and/or add to our organ music collections. As a benefit for the chapter's coffers, we're going to have a sale of "gently" used music. Please bring your donations of music to the meeting, and we'll set it out for other folks to purchase. The chapter will gain some revenue and you'll gain some much-needed space that you can put your bargain purchased music in.
May we all enjoy a wonderful holiday season!

Editor's Corner
This newsletter is published by the Central Hudson Valley Chapter of the American Guild of Organists. The editor is:
Susan LaGrande
12 Montrose Lane
Wappingers Falls, NY 12590
Phone: 845-226-6496 (home)
Fax: 845-226-3248
e-mail: SUSANEL2@HOTMAIL.COM.
All material in this newsletter (except for lists of members' addresses and phone numbers) is available on our web site at www.chvago.org
Newsletter Items Wanted
Contributions to this newsletter are always welcome. We have been very pleased to offer a member profile in previous issues. If you would like to be profiled, you may write your own biography (up to 500 words) or contact the editor to arrange an interview.
We also solicit news of upcoming events for our Calendar page, as well as reviews, particularly of recent chapter events. Articles and news items may be submitted to the editor by mail or by e-mail at the address above. Articles may be edited for length or clarity.
Project Input Requested
All AGO chapter newsletter editors have been asked to publish the following:
In the spring of this year, the Estate Project for Artists with AIDS, a program of The Alliance for the Arts, establihed a music initiative to preserve and promote the music of composers with AIDS (both living and deceased) and to gather data on the effects of AIDS on American music. The program's director, Joseph Dalton, is seeking input from AGO members. If you know of a compser or professional musician who has died as a result of HIV infection, please send the names (and if possible the year and city of the individual's death) to Mr. Dalton. The Estate Project is also compiling a list of musical works addressing AIDS nd is working with composers living with HIV/AIDS. More information is available on the web site listed below. Contact: Joseph Dalton, Music Program Director, The Estate Project for Artists with AIDS. Email: EstateMusic@aol.com. Address: 573 Center Cambridge Road, Cambridge, NY 12816. More information available at: <http://hometown.aol.com/estatemusic/myhomepage/business.html> and at <www.artistswithaids.org>
Membership Updates
Best wishes to Richard C. Ehlenberg, who recently retired from the First Congregational Church in Poughkeepsie after 44 years. Richard is now available as a substitute (see list below).

Jimrae Lenser has moved both his residence and his place of employment. His new address is:

Jimrae K. Lenser
311 Meadow Lane
Modena, NY 12548-5126

He is now Director of Music, St. John the Evangelist, Goshen

This month's newsletter contains the annual memebership roster, based on information submitted with membership applications and renewals received by our treasurer, Mary Caskey. Please check your information carefully. If any changes are required, please be sure to notify the chapter secretary, Susan LaGrande, at 845-226-6496 or e-mail: susanel2@hotmail.com. Please note that this information will not be published on our chapter web site; we respect your privacy.
List of Organ Substitutes
Jeffrey Alban 845-226-6482
Elena Belyayeva 845-452-2069
Greg Citarella 845-297-7693
Richard C. Ehlenberg 845-658-9746
Boyd Herforth 845-255-5298
(Work) 973-783-8798
Lois Hoger 845-229-7404
Janet Nickerson 845-561-0763
Jeff Parries 845-297-6870
W. Alan Seale 845-482-9309 or 212-749-1817
For Weddings & Funerals Only:
Joe Bertolozzi 845-831-0695
Larry Hazard 845-452-0119
Erna Loerch 845-226-8094