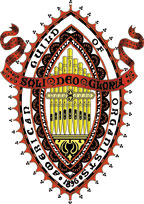 Newsletter - February 2003

Click here for the Newsletter Archive



Letter from the Dean
Frozen greetings from West Point! I don't know about you, but I've had just about enough of this 'winter wonderland' stuff. Remind me to not complain about the summer heat and humidity.
We had a great time at the annual "Spuds and Sundaes" and "musical bake sale." It's amazing how you can clean out your music shelf, but end up with less space because you actually brought home MORE stuff! I guess that qualifies as "too much of a good thing." Thanks to our gracious hostess Connie Lacey and our resident potato baking expert Susan LaGrande for coordinating a wonderful evening.
Our next chapter event is a choral reading session, in partnership with the Westchester Chapter, AGO. It will be led by Cliff Hill, who put on a fabulous reading session at the AGO National convention in Philadelphia. This one will be held at the Yorktown United Methodist Church in Yorktown Heights on Sunday, February 9th, at 4:00 PM. For those of you not familiar with Yorktown, it's easy to get to; click here for directions. I hope many of us will attend so we can have a great big choir!
Be sure to mark your calendars with our Lecture/Demonstration on "Conducting from the Console" led by our very own Craig Williams. It is set for Monday, March 17th , at 7:30 PM and will be held in Cornwall. Craig will bring some example pieces, and if time permits will offer some help on a piece that you bring in. If you're interested, please bring along 15 copies so we can be your demonstration choir.
It's never too early to choose what you'd like to play on our annual Members' Recital that will be held on Friday, May 2nd, at 7:30 PM at a location to be announced.
What's the best way to increase our membership? Personal contact from you! I promise that for every new member you bring into our fold, I will reduce the number of horrible puns I present. For example, if you played a piece by that French guy Marcel before the service, would that be a Marcel Dupré-lude??
See you on the 9th!

Membership Updates
Welcome to our newest returning member! His contact information is:
Jimrae K. Lenser
61 Hamptonburgh Rd #1
Campbell Hall, NY 10916
845-388-6641
Organist: St. John's RC Church, Goshen

Don Filkins has a new e-mail address: dfilkins5198@msn.com

John Sullivan's alternate phone number has been incorrect in previous listings. It should be 845-462-7600.

Robert F. Siebert has announced his retirement as Organist/Music Director at the Reformed Church of Beacon as of January 1, 2003. He writes: "My decision to retire is so difficult, but necessary to my health and well being."

Bob's early training in organ performance during his college years was with Charles O. Banks, Mus.D., FAGO. He has been employed as an organist, choir director, and handbell choir director for over sixty years, mostly in Beacon and Fishkill, and will continue his duties as organist for Masonic and Eastern Star events. Bob has been a charter member of our chapter since 1952 as well as past dean. He writes: "The best to my old buddies at CHVAGO. I shall retain my membership and continue my contributions to the AGO Annual Fund." We thank Bob for his many years of active participation in the chapter and wish him all the best in the future.

Click here to view a photo of Bob at the console.
Directions to Yorktown United Methodist Church
From Rte I-84: Take the Taconic Parkway south for 19.83 miles to US-202 W/RT-35 W ramp. Turn LEFT onto US-202/NY-35/Crompond Rd. Continue 3.0 miles south until you reach the Yorktown United Methodist Church, which is on the left side, across from the police station. Parking is next to the church. Driving time from Hopewell Junction: 32 minutes.
From Rte 9W: Take exit for US-202 N/US-6 E. Enter next roundabout and take 1st exit onto US-9 S/US-202 E/US-6 E. Turn LEFT onto Bear Mountain State Pkwy. Take a SLIGHT LEFT onto Crompond Rd/US-202/NY-35. Continue 3.0 miles south until you reach the Yorktown United Methodist Church, which is on the left side, across from the police station. Parking is next to the church. Driving time from West Point: 32 minutes
Click here to view the church's web site.
Teachers and Students! Improve Your Skills
To kick off the Region II Convention to be held in Albany, New York this coming June, a Master Class will provide the opportunity for five students to perform for the guest clinician, Dr. Patricia Philips Wright. Click here for a full description and application form.

AGO Headquarters has announced the activation of the Charles N. Henderson Scholarship, made possible by a fund created in 2001 in memory of the late Editor Emeritus of The American Organist Magazine. Established by the family and friends of Mr. Henderson and the AGO National Council, the scholarship will be awarded to deserving Pipe Organ Encounters participants beginning in 2003. As reported in the February issue of TAO, contributions to the fund have already exceeded $10,000. For more information about this scholarship opportunity, or to make a donation, contact: F. Anthony Thurman at 212-870-2310, e-mail: fathurman@agohq.org . Click here for the complete text of this announcement.

All of us can attest to the value of having a good organ teacher. But in between lessons, what if you had a resource that would help you with basic technique? Such a resource is available in the form of a computer program called OrganTutor, developed by Brigham Young University and sold for $99.85 plus shipping. In 1999 it was favorably reviewed in two articles in The American Organist magazine. For information about this software, click here.

AGO Headquarters has introduced five new educational products designed for the 21st century. These items include the new MASTER SERIES, featuring legendary organist teachers Catharine Crozier, Marie-Claire Alain, and Frederick Swann, available in both VHS and DVD formats, and the reissuing of the AGO's MINI-COURSES in Basic Organ Registration, Hymn Playing, and Creative Hymn Playing on compact disk. Master Series videos are $25 each (plus shipping), and Mini Courses are $22 each or $50 for the 3-CD set (plus shipping).

The MASTER SERIES is designed as a video archive of notable 20th-century organist teachers. Inaugurated in 2001 by the AGO Committee on Educational Resources, each volume features an interview with the artist and excerpts from masterclasses. Catharine Crozier was filmed while teaching at Illinois College, and the video includes her performance of Langlais's Te Deum and Sowerby's Requiescat in Pace. Marie-Claire Alain was filmed at the University of Kansas and in New York City. Her video includes critical commentary on the works of Jehan Alain. The video featuring Frederick Swann, currently in production, is expected to be released in the fall of 2003.

The MINI-COURSE series, inaugurated in 1984, is designed to provide helpful and informative guidance to both beginning and experienced organists. Each volume includes a recording and accompanying booklet. For further information about these products, or to receive a free catalog of AGO Educational Resources, please call 212-870-2310 or click here to send e-mail, or click here to visit the web site and view the product description. AGO members receive a 10% discount on all Guild products.

Those of us who have prepared for the AGO Service Playing Certificate examination know that this program is jointly sponsored by the AGO and the National Association of Pastoral Musicians (NPM). But did you know that NPM has also created a Basic Organist Certificate for Organists Serving Roman Catholic Parishes? As the name implies, the Basic Organist Certificate program is less rigorous than the AGO/NPM Service Playing Certificate program. Examinations are conducted in the presence of a proctor and submitted via recording. The NPM Basic Organist Certification is available to all NPM members. The application fee is $10. Individual memberships to NPM are $50 per year; parish group memberships, which offer discounts on NPM programs, are also available. For more information about this program, or to join NPM, visit the web site at www.npm.org or call 240-247-3000

And don't forget - the Chapter offers free membership for one year as a scholarship to organ students who are being taught by members of the chapter. This offer applies to persons who have not formerly been members of the chapter and who are currently in school. Please call Mary Caskey at 845-534-2938 if you have a student who is interested in this opportunity.
Editor's Corner
This newsletter is published by the Central Hudson Valley Chapter of the American Guild of Organists. The editor is:
Susan LaGrande
12 Montrose Lane
Wappingers Falls, NY 12590
Phone: 845-226-6496 (home)
Fax: 845-226-1035
e-mail: SUSANEL2@HOTMAIL.COM
All material in this newsletter (except for lists of members' addresses and phone numbers) is available on our web site at www.chvago.org
Newsletter Items Wanted
Contributions to this newsletter are always welcome. We have been very pleased to offer a member profile in previous issues. If you would like to be profiled, you may write your own biography (up to 500 words) or contact the editor to arrange an interview.
We also solicit news of upcoming events for our Calendar page, as well as reviews, particularly of recent chapter events. Articles and news items may be submitted to the editor by mail or by e-mail at the address above. Articles may be edited for length or clarity.
About Our Web Site
We are certainly pleased with the response to our new web site, and we encourage everyone to visit it frequently to keep up with periodic updates and improvements. Once again this newsletter (as well as previous issues) is available on the web site. However, please be aware that while the entire text of the newsletter is reproduced on the web site, some sections have been split off into separate web pages. For example, the List of Substitutes is accessible from the Home Page by clicking on the "Sub List" button. This not only avoids duplication of this information across multiple issues of the newsletter, but also makes it easier for a visitor to find it.
Be sure to spread the word about our web site among fellow organists, other musicians, students, and members of the clergy, so that our web site can serve as wide an audience as possible.