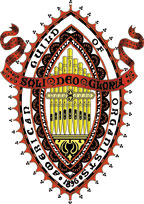 Newsletter - January 2003

Click here for the Newsletter Archive



Letter from the Dean
Happy New Year! I hope this edition of the newsletter finds you and yours happy and healthy as we begin 2003. We begin this calendar year with an opportunity to gain some music storage space, as well as gain some new music to fill that space at our annual "Spuds and Sundaes" and "musical bake sale" on January 12 at the Reformed Church in Fishkill. Click here for details and directions. Please give Connie Lacey a call to let her know that you're coming so we can get an accurate count to set up.
So of course, you're all aware that some organ pipes still use "scrolls" for tuning. They are simply rolled up or down as needed to tune the pipes. When I was asked why I didn't have the tuner tune the lowest pipe on the façade, I simply replied "Because it's the dead C scroll!"
Have you looked in the current issue of TAO? Our chapter got another picture in print from our October meeting. Looking around on the internet and seeing other chapter's websites and meetings schedules, we are truly fortunate to have such hardworking and dedicated folks on the executive board. Please continue to call, write or e-mail us with your thoughts and suggestions on events past and future. Help us serve you better.
Safe travels to all this busy Holiday season, and we look forward to seeing everybody on January 12th in Fishkill!!

Membership Updates
Directions to Reformed Church, Fishkill
The church property is right on the corner of Route 9 and Route 52 (Main Street) and the tall brown steeple is visible for a considerable distance. There is a parking lot next to the Dubois House, which is the white building closest to Route 9. Enter the parking lot immediately upon turning onto Route 52.
From the North: Take Route 9 south to Fishkill. Turn right on Route 52.
From the South and West: Take Route I-84 east to Exit 13 (Route 9) northbound. Turn left on Route 52.
NYC Chapter Competition Deadline Approaching
The next New York City Chapter Competition for Young Organists will be held on Saturday March 29, 2003. It is open to young organists living or attending school in Region II, and who are under the age of 23 as of August 1, 2003. New this year are two cash prizes, First Prize of $500, sponsored by William Mead in memory of George Mead, former organist of Trinity Wall Street; and Second Prize of $250 sponsored by Gl¸ck Orgelbau, Inc. The winner will go on to compete in the AGO/Quimby Regional Competition for Young Organists next summer at the Region II Convention in Albany.
The application deadline is January 15, 2003. The official registration form and rules are printed in the May 2002 issue of TAO, or are available from AGO headquarters: 475 Riverside Dr., Suite 1260, New York, NY 10115, or download at www.agohq.org. Completed application forms with the $25 application fee (payable to NYC AGO) should be sent to:
Christopher Creaghan
NYC AGO Competition
924 West End Avenue, #81
New York, NY 10025
Photo of November Piano Students Event
Thanks to Janet Nelson Nickerson for providing this photo of the Newburgh session for young piano students on November 2. The adults in the photo are Dr. Magaret Small and our chapter dean Alan D. Reese. We hope this outreach to piano students will become an annual event.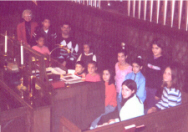 Click here for a larger image.
New York City's First Pipe Organ Enounter
The New York City chapter is pleased to announce its first Pipe Organ Encounter that will take place the week of July 6, 2003. We are planning an outstanding week of activities including private lessons with many of New York City's stellar cast of organists, visits to our renowned organs and churches, practical seminars on careers in music, workshops with notable scholars, excursions to organ builders' workshops, and attendance at some of the many concerts New York City has to offer. Total immersion for those with a curiosity, interest, or passion for the organ!
The program will be modular in design with each student's activities tailored to his/her level, thus allowing students to achieve maximum benefit from the week's events. Beginners through advanced ages 13-19 are welcome to apply. Beginners need not have previous pipe organ experience, but should have reached an intermediate standard on the piano.
A POE is a remarkable way for students to become better acquainted with the pipe organ, providing them with the opportunity to hear and play a wide variety of instruments, to learn how they work, to explore repertoire both familiar and unfamiliar, and to meet other young musicians with similar interests. Tuition for the week is $325, including accommodation, all meals, local transportation, and entry to concerts and special events.
The NYC POE is the only one in 2003 on the entire east coast from Maine to Florida! We hope you will encourage your students to consider taking part in this memorable event. For further information and applications, please contact the NYC POE director:
Gregory D'Agostino
E-mail: gregdag@aol.com
PO Box 230402
Ansonia Station
New York, NY 10023
Other POEs for Teenagers to be held in 2003 are as follows:
June 15-21 - Knoxville, Tenn.
June 29-July 3 - Sioux Falls, S.Dak.
July 6-11 - Dallas, Tex.
July 6-12 - New York, N.Y.
July 8-12 - Calgary, Alberta
July 20-25 - Athens, Ohio
July 20-26 - San Diego, Calif.
There is also a POE+ for Adults being offered July 7-11 in Waco, Texas. This is a summer program filled with practical information and instruction for adult pianists and other musicians interested in improving their service playing skills. Participants will be introduced to basic organ skills through private instruction and classes. The week-long experience will lead to greater confidence and competence at the organ. For information about the POE+ for Adults, contact:
Dr. Joyce Jones
3525 Carondolet
Waco, TX 76710
254-753-8776 (home) or 254-710-1417 (business)
e-mail: joyce_jones@baylor.edu.
Editor's Corner
This newsletter is published by the Central Hudson Valley Chapter of the American Guild of Organists. The editor is:
Susan LaGrande
12 Montrose Lane
Wappingers Falls, NY 12590
Phone: 845-226-6496 (home)
Fax: 845-226-1035
e-mail: SUSANEL2@HOTMAIL.COM
All material in this newsletter (except for lists of members' addresses and phone numbers) is available on our web site at www.chvago.org
Newsletter Items Wanted
Contributions to this newsletter are always welcome. We have been very pleased to offer a member profile in previous issues. If you would like to be profiled, you may write your own biography (up to 500 words) or contact the editor to arrange an interview.
We also solicit news of upcoming events for our Calendar page, as well as reviews, particularly of recent chapter events. Articles and news items may be submitted to the editor by mail or by e-mail at the address above. Articles may be edited for length or clarity.
About Our Web Site
We are certainly pleased with the response to our new web site, and we encourage everyone to visit it frequently to keep up with periodic updates and improvements. Once again this newsletter (as well as previous issues) is available on the web site. However, please be aware that while the entire text of the newsletter is reproduced on the web site, some sections have been split off into separate web pages. For example, the List of Substitutes is accessible from the Home Page by clicking on the "Sub List" button. This not only avoids duplication of this information across multiple issues of the newsletter, but also makes it easier for a visitor to find it.
Be sure to spread the word about our web site among fellow organists, other musicians, students, and members of the clergy, so that our web site can serve as wide an audience as possible.