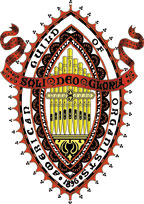 Newsletter - January/February 2002

Click here for the Newsletter Archive



Letter from the Dean
Some weather we're having, isn't it? We go from 50 degree winter days to winter weather advisories that bring us mostly rain. Maybe it will snow this summer?!? We had a nice turnout for our "Spuds and Sundaes" event in January and a successful music sale to go with. Many thanks to those who donated their music to make shelf space for themselves, and some additional funds for the chapter coffers, and big thanks to our hostess, Connie Lacey and to Susan LaGrande for coordinating the foodstuffs. We should adjust the food pyramid to reflect our more correct ideas for proper nutrition.
Connie, chairing the nominating committee, presented the slate of officers for next year. As it turns out, the current officers and board members have been recommended to serve another year. No nominations were added from the floor, but if you would like to add your name to the mix, or suggest someone else be added to the ballot please contact Connie Lacey as soon as possible.
Our next chapter event will be a demonstration on the music notation software "Sibelius" by Robin Hodson, the northeast representative from the company. This will serve as a good introduction to those of you who still are writing notes on paper and may have questions on what and how a computer can help you with arranging and/or writing music. The art of penmanship has been lost with me, so the ability to produce publication quality music notation on a computer has been great for me ñ and for those who used to have to read my manuscript. This presentation will have something for every skill level, and will be on Friday, February 22nd, at 7:30 at the Reformed Church in Poughkeepsie. Click here for directions to the church.
Have you seen the February issue of TAO yet? There's a note on page 58 informing everyone of our website address. We have a link from the AGO National website so anybody looking for a chapter in our area can be directed to us. Well-deserved notes of praise about our site are rolling in ñ keep up the good work Susan, you're making us look great.
See you in Poughkeepsie!

Editor's Corner
This newsletter is published by the Central Hudson Valley Chapter of the American Guild of Organists. The editor is:
Susan LaGrande
12 Montrose Lane
Wappingers Falls, NY 12590
Phone: 845-226-6496 (home)
Fax: 845-226-3248
e-mail: SUSANEL2@HOTMAIL.COM.
All material in this newsletter (except for lists of members' addresses and phone numbers) is available on our web site at www.chvago.org
Newsletter Items Wanted
Contributions to this newsletter are always welcome. We have been very pleased to offer a member profile in previous issues. If you would like to be profiled, you may write your own biography (up to 500 words) or contact the editor to arrange an interview.
We also solicit news of upcoming events for our Calendar page, as well as reviews, particularly of recent chapter events. Articles and news items may be submitted to the editor by mail or by e-mail at the address above. Articles may be edited for length or clarity.
About Our Web Site
We are certainly pleased with the response to our new web site, and we encourage everyone to visit it frequently to keep up with periodic updates and improvements. Once again this newsletter (as well as previous issues) is available on the web site. However, please be aware that while the entire text of the newsletter is reproduced on the web site, some sections have been split off into separate web pages. For example, the List of Substitutes is accessible from the Home Page by clicking on the "Sub List" button. This not only avoids duplication of this information across multiple issues of the newsletter, but also makes it easier for a visitor to find it.
Be sure to spread the word about our web site among fellow organists, other musicians, students, and members of the clergy, so that our web site can serve as wide an audience as possible.
Membership Updates
Welcome to two new members:

Peter Krauss
PO Box 306
LaGrangeville, NY 12540
845-473-3384
Principal Position: Director of Music, Holy Trinity R. C. Church, Poughkeepsie

Will Carter
447 Hobbs Lane
Clinton Corners, NY 12514
845-266-4281
E-mail: lohrey99@aol.com
Will is a dual member (New York City primary) and has placed his name on our substitute list.

We also welcome back Peter Hall, who has renewed his membership. With the two new members listed above, this brings our chapter population to 65. This is excellent, and we should all be proud of our growth. But think about it ñ how many organists do you know who are NOT members of the AGO? Call someone today and extend an invitation to join us. Recruitment is easier than ever now that the chapter web site is up and running; everything you need, including a membership application, is right at your fingertips. Just go to http://www.chvago.org.
Corrections to the Membership Roster (please contact the secretary with any further changes):

Mary Caskey - Principal Position: Retired

Greg Citarella - Principal Position: (to be left blank)

Wayne Downing - Principal Position: Organist, St. John's Episcopal Church, Monticello

Boyd Herforth - Principal Position: Organist/Choir Director, Grace Episcopal Church, Middletown

John Sullivan - Principal Position: Organist, Christ Episcopal Church, Poughkeepsie

Pat Maimone - Principal Position: Organist, Post Chapel, USMA, West Point

Craig Williams

Phone Number: 845-838-7352

Principal Position: Organist/Director of Music, Cadet Chapel, USMA, West Point

Directions to the Reformed Church, Poughkeepsie

>From the west, or from the Mid-Hudson Bridge, continue straight on Rte 44-55 east for about ‡ mile. Turn right on So. Hamilton Street for one block until you come to "five corners" at The River Church. Bear left onto Hooker Avenue. Continue about º mile until you come to the traffic light at the three-way intersection of Hooker Avenue, So. Clinton Avenue, and Forbus Street. Bear left onto Foprbus Street. After one block, turn right onto Hanscom Avenue (behind the church). Park on the street or in the parking lot on the left. Enter the building through the tower door, between the street and the sanctuary doors.

>From the south, take Rte 9 north past shopping centers to the traffic light by the Holiday Inn Express in Poughnkeepsie; turn right onto Sharon Drive at the light. At the end of Sharon Drive, turn left onto Beechwood Avenue, which merges with Ferris Lane. Follow Ferris Lane until it ends at Hooker Avenue. Turn left onto Hooker Avenue and proceed about ‡ mile until you come to Dwight Street. Church is on the right far corner. For parking, go one block past the church to the next traffic light. Take a hard right turn onto Forbus Street. After one block, turn right onto Hanscom Avenue (behind the church). Park on the street or in the parking lot on the left. Enter the building through the tower door, between the street and the sanctuary doors.

List of Organ Substitutes

Click here for the Newsletter Archive