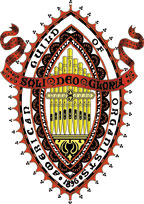 Newsletter - June 2002

Click here for the Newsletter Archive



Letter from the Dean
Greetings from West Point as the summer weather has FINALLY started to roll in. Thanks to John Sullivan for setting up the choral reading session with Oxford University Press. They brought in quite a varied packet of music, and provided both a leader and accompanist so all we had to do was sit back, sing and enjoy the music. Ah, if all our programs could be that easy to put on… Our thanks to John for hosting the event at Christ Church, also.
There's still room on the members' recital program for you to participate. Please contact Susan Guse if you can help fill out the program. It's just around the corner!
I hope you have July 14th circled on your calendars, too. That's the program where I will be able to use my greatest talent – EATING! That's right, our always-fabulous picnic, and it will be held at Greg Citarella's home. An annual event not to be missed.
If you haven't already, please get your membership renewals sent in right away, so you can be sure to keep your TAO subscription intact. Even though we are in this wonderful age of computers, it still takes about 3 months for magazine subscriptions to start – so if your membership lapses, you'll probably miss a few issues of TAO.
Stay tuned for exciting reports as the USMA Band softball season is about to begin. I guarantee that the softball team will fare better than the basketball team. There is no better feeling than when a group of "mere musicians" is victorious in a sporting event. People that take their sports seriously get REALLY upset when we beat them! See you soon!

Arranging for Practice Times at Zion Episcopal Church
Anyone needing to practice for the members' recital on June 9 should make every effort to do so between 9:00 AM and 4:00 PM Monday through Friday. This is because Beverly Simmons, our host, lives 40 minutes away (one way) and obviously can't come running just to let people in. Therefore it is best to call Chris in the office (845-297-9797 and let her know when you will come.
There is lots of parking so that is not a problem. People arriving to practice should go to the large house next to the church, which is the office building. It used to be the Rectory so it looks like a large old home. Chris, in the office, will let you into the church or tell you if it is open.
If someone absolutely can't practice during the day they will have to call Beverly Simmons at 914-788-1552 and she will try to arrange something.
Directions to Zion Episcopal Church
Zion Episcopal Church is located in the village of Wappingers Falls on Route 9D, across from the Grinnell library.
From the NORTH: Take Route 9 south to Route 9D (a right turn just past both the Poughkeepsie Galleria and South Hills Mall). Follow Route 9D for about a mile into the village of Wappingers Falls. The road takes a sharp left turn and goes over the creek; then you go up a short steep hill and the church is on your right. Turn RIGHT onto Satterlee Place for parking.
From the SOUTH: Take Route 9 north, watching for a traffic light just past McDonald's on your left and a sign for Home Depot on your right: there is a Dairy Queen just past the traffic light. Turn LEFT at the traffic light (East Main Street). Go a few blocks (past the Post Office) until you come to the first traffic light (Y-intersection). Go RIGHT at the light and take the first LEFT (Satterlee Place) for parking.
From the WEST: Take Route 84 across the Newburgh-Beacon bridge and take the first exit after the toll booths (Route 9D). Continue north on Route 9D until you come the the village of Wappingers Falls. When you come to a traffic light at a Y-intersection, with a park in front of you, you will see the church on your left. Turn LEFT onto Satterlee Place for parking.
Membership Updates
Wayne Downing has a new e-mail address:

Education Pays Off

Congratulations to Clara Miller! Her acheivement in graduating from college was noted in the following article by Rebecca Rothbaum in the Poughkeepskie Journal on May 20, 2002:
Clara Miller, who made headlines as the oldest student at the State University of New York at New Paltz, graduated Sunday at age 93.
''I just felt like I should have had it way back when I was 18,'' Miller said. She received her bachelor's degree in music. ''Now I have accomplished that.''
Miller, who received academic credit for her years as a pianist and organist, completed studies in four years, taking two courses a semester.
Her story inspired newspaper articles and an appearance on TV's ''Good Morning America,'' especially since she taught 1950's television star Buffalo Bob piano when he was boy.
University spokeswoman Nancy Fenichel said Miller ''sends the message that there never has to be an end to your learning and education.''
Still, Miller said, college was a challenge.
''They keep saying it's so wonderful you could do this at your age,'' the Wappingers Falls resident said. ''But it's really hard.''
She doesn't plan on pursuing another degree or a job. She is already employed as organist at the Christian Science Church in Poughkeepsie, where she just received a raise.
''Because now I am a college graduate,'' Miller said.
Editor's Corner
This newsletter is published by the Central Hudson Valley Chapter of the American Guild of Organists. The editor is:
Susan LaGrande
12 Montrose Lane
Wappingers Falls, NY 12590
Phone: 845-226-6496 (home)
Fax: 845-226-3248
e-mail: SUSANEL2@HOTMAIL.COM
All material in this newsletter (except for lists of members' addresses and phone numbers) is available on our web site at www.chvago.org
Newsletter Items Wanted
Contributions to this newsletter are always welcome. We have been very pleased to offer a member profile in previous issues. If you would like to be profiled, you may write your own biography (up to 500 words) or contact the editor to arrange an interview.
We also solicit news of upcoming events for our Calendar page, as well as reviews, particularly of recent chapter events. Articles and news items may be submitted to the editor by mail or by e-mail at the address above. Articles may be edited for length or clarity.
About Our Web Site
We are certainly pleased with the response to our new web site, and we encourage everyone to visit it frequently to keep up with periodic updates and improvements. Once again this newsletter (as well as previous issues) is available on the web site. However, please be aware that while the entire text of the newsletter is reproduced on the web site, some sections have been split off into separate web pages. For example, the List of Substitutes is accessible from the Home Page by clicking on the "Sub List" button. This not only avoids duplication of this information across multiple issues of the newsletter, but also makes it easier for a visitor to find it.
Be sure to spread the word about our web site among fellow organists, other musicians, students, and members of the clergy, so that our web site can serve as wide an audience as possible.
Singers Wanted for Bach Fest
We have received this announcement from the coordinators of the 2002 Hudson Valley BachFest
This year's BachFest dates are August 9, 10, and 11. We would like to extend an open invitation to area singers to participate on Saturday, the 10th, in the Festival Choir, conducted by Dr. Laura Ramsey Russell.
The 3:30 afternoon concert will include the motet Jesu, meine Freude and Cantata #106, Gottes Zeit ist die Allerbeste Zeit, which will be sung by the BachFest Chamber Choir.
The 7:30 evening concert will feature portions of the Passion According to St. Matthew, including: Kommt, ihr Töchter, helft mir klagen, O Mensch, bewein dein' Sünde gross, and the final chorus, Wir setzen uns mit Tränen nieder, as well as several chorales and arias. These will be sung by the full Festival Choir and accompanied by the Bach Festival Orchestra.
The Passion According to St. Matthew will be sung in English; the edition is G. Schirmer, with translation by Robert Shaw If you need a score, we can provide you with one to borrow for the summer. Rehearsals will take place on Mondays and Thurdays at 7:30 p.m. at Christ Church in Poughkeepsie, beginning on Monday, June 10. The week that includes the fourth of July we will NOT rehearse. We've planned this long preparation time to accommodate everyone's varied vacation plans.
On Saturday, August 10th, we will serve dinner between the two concerts for everyone. To join the Choirs, call Dr. Laura Ramsey Russell at (845) 485-1648. Also, visit our website, www.hudsonvalleysocietyformusic.org !
We hope you can join us. It is always a wonderful experience!
Don't Forget to Send in Your Membership Renewal!
There are still several members who have not sent in their renewal forms and dues for 2002-2003. If you are in that category, DON'T DELAY! Mail it today!
Remember that a printable copy of the membership form is available on our web site, or call the editor, Susan LaGrande, at 845-226-6496 to receive a new copy by mail or fax.