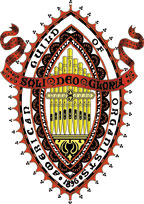 Newsletter - March 2002

Click here for the Newsletter Archive



Letter from the Dean
OK, looks like Punxy Phil was right — winter is still here and it's cold again. I'm looking to start a support group that will enable participants to be able to say "no" to doing extra stuff. My schedule right now includes performing in three operas, a solo recital April 21st, the usual church events, Pat Maimone's annual Bach concert, and then off to work on my Master's degree for two wonderful, relaxing (?) weeks on or about June 8th. We just did a concert at my church using members of our church family all accompanied on the organ. It was quite successful, and a type of event I would recommend for any congregation. Use your 'spies' and find those hidden or reluctant talents that are in every group and showcase them. We have a ninth grade violinist that just brought the house down. Of course he's playing a million 16th notes while I'm holding chords, but who's complaining…
Jack Davis hosted the "Sibelius" software demonstration at the Reformed Church of Poughkeepsie on Feb 22nd, and those who were able to attend were shown an amazing product. I commend Mr. Robin Hodson on presenting an engaging and impressive 'test drive' of one of the two main notation software programs in the world. About 15 minutes into the program, my wife leaned over to me and asked "So why did we buy Finale?" Well, aside from the free T-shirt from Finale… Everyone who attended was given a free trial version of Sibelius, and if anyone who was unable to attend is interested trying it out, let me know and you can load the demo on your computer. One note of interest, the latest version of Sibelius is only for PC right now, but it will be available for Mac users within three weeks.
Our next chapter event will be a hands-on session about the Alexander Technique given by Judith Youette. It will take place at 4 p.m. on Saturday, March 9th at First Presbyterian in Pleasant Valley. Directions can be found elsewhere in the newsletter as well as on the website. To quote from the their website:
The Alexander Technique is a simple and practical hands-on technique for changing postural habits which produce various forms of fatigue and physical distress. "...musicians, actors and dancers constitute a sizable proportion of Alexander Technique students. ...Performers are attracted to the Alexander Technique because the quality of how their body functions directly influences the quality of their performance. Also many performers, especially musicians and dancers, are in pain because of the demanding nature of their work."
Just picture yourself seating at the organ console, hunched over, reaching up to the top manual while being unable to support yourself with your feet since they are playing pedals, at the same time looking at the music rack which is never in a comfortable position. How about how tired, stiff or sore your fingers, wrists, arms, shoulders, neck etc. feel after an intense practice session or 'high-profile' service? This should be a wonderful opportunity to learn some ways to allow us to continue in our craft longer, healthier and with better results. This would be a great program to bring a friend to. Non-members will be asked for a $5 donation to help offset our presenter's fee. Hope to see many of you there!

Editor's Corner
This newsletter is published by the Central Hudson Valley Chapter of the American Guild of Organists. The editor is:
Susan LaGrande
12 Montrose Lane
Wappingers Falls, NY 12590
Phone: 845-226-6496 (home)
Fax: 845-226-3248
e-mail: SUSANEL2@HOTMAIL.COM
All material in this newsletter (except for lists of members' addresses and phone numbers) is available on our web site at www.chvago.org
Newsletter Items Wanted
Contributions to this newsletter are always welcome. We have been very pleased to offer a member profile in previous issues. If you would like to be profiled, you may write your own biography (up to 500 words) or contact the editor to arrange an interview.
We also solicit news of upcoming events for our Calendar page, as well as reviews, particularly of recent chapter events. Articles and news items may be submitted to the editor by mail or by e-mail at the address above. Articles may be edited for length or clarity.
About Our Web Site
We are certainly pleased with the response to our new web site, and we encourage everyone to visit it frequently to keep up with periodic updates and improvements. Once again this newsletter (as well as previous issues) is available on the web site. However, please be aware that while the entire text of the newsletter is reproduced on the web site, some sections have been split off into separate web pages. For example, the List of Substitutes is accessible from the Home Page by clicking on the "Sub List" button. This not only avoids duplication of this information across multiple issues of the newsletter, but also makes it easier for a visitor to find it.
Be sure to spread the word about our web site among fellow organists, other musicians, students, and members of the clergy, so that our web site can serve as wide an audience as possible.
Directions to First Presbyterian Church, Pleasant Valley
>From the south, take the Taconic State Parkway north to Rte 44 west toward Poughkeepsie.
>From Poughkeepsie and points west, take Route 44-55 east, following Rte 44 when the two routes split. Follow Rte 44 east toward Millbrook.
In each case, proceed to the village of Pleasant Valley. First Presbyterian is the big white church with the colonnade in front, on the south side of the street. There are two entrances to the parking lot, although the one next to the library is the easiest to use for parking.
Membership Updates
Corrections to the Membership Roster (please contact the secretary with any further changes):

Pat Maimone - Principal Position: Organist/Director of Musical Activities, Post Chapel, USMA, West Point
Poughkeepsie Journal Features 1888 Organ at Hyde Park Reformed Church
On Thursday, February 28, 2002, the Poughkeepsie Journal ran a lengthy article, with photographs, of the newly restored 1888 Odell tracker organ in the Hyde Park Reformed Dutch Church. The article was written by John Davis and photographs were by Lee Ferris.
The organ was "resurrected throught the volunteer efforts of one of the faithful," Kenneth Stark.
Stark said "he could not stand to sit in church on Sundays and see the pipe organ, which was donated in 1888, sit there dormant." He spent more than 1,000 hours on the restoration project, which included restoring the facade with painted stencils matching the original designs formerly hidden under layers of gold paint.
"The tones swelling from the 713 pipes were quite a difference to that produce by the electric organ and speakers the church has used since 1970," the article said. Nice to know that people do notice the difference.
To see the remainder of this article, with photographs, click here.
Photo from the November Organ Crawl (Click for larger image)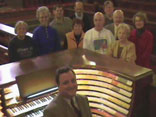 Craig Williams at the console of the Cadet Chapel, West Point, with members Mary Caskey, Lois Hoger, Al Reese, Polly James, Don Filkins, John Sullivan, Rod McLeod, Jack Davis, Denise Levine and Susan Guse
Concert and reception for BACH's 317th birthday
Everyone is welcome on Thursday, 21 March 2002 at HIGH NOON (1200 hours) at the OLD Cadet Chapel, West Point (in the cemetery area at the north end of post). Participating artists include chapter members Pat Maimone and Al Reese, as well as several others from West Point and beyond. The program will consist of organ chorale preludes and larger works including the famous "Toccata and Fugue in D Minor" as played by the Dean, excerpts from cantatas "Weichet nur" [Cantata 202, a Wedding Cantata] for soprano, oboe and continuo and others such as Cantata 142, spurious though it may be, and from choral-orchestral works including the soprano aria "Quia respexit" from Bach's "Magnificat" with oboe d'amore and continuo. The audience will be asked to sing a chorale harmonized by the master.
Birthday cake will be served following the concert. Admission is free. For info: Please send e-mail to yp6867@usma.edu or patmai@erols.com or call Pat Maimone at 845-938-2959.
List of Organ Substitutes

Click here for the Newsletter Archive