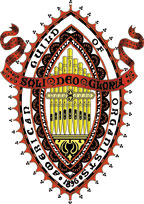 Newsletter - March 2003

Click here for the Newsletter Archive



Letter from the Dean
It is with a heavy heart that I write this month's Dean's letter. Our condolences go to Jack Davis on the passing of his wife, Denise Levine on the passing of her father, and Polly James on the passing of her mother. We grieve with you, and wish you God's peace.
We had choices to make in February as our chapter event was a choral reading session partnered with the Westchester at almost the same time our illustrious Sub-Dean John Sullivan was playing a recital. I think we need to add another day to the week so we can try to alleviate most of our scheduling conflicts. Another fabulous February event was the first dedicatory recital of Vassar's new Fritts organ, given by Merellyn Gallagher. She played wonderfully, and I'm now searching for chorale preludes by Kauffman that she played -- they were just exquisite!
Be sure to mark on your calendars our Lecture/Demonstration on "Conducting from the Console" led by our very own Craig Williams. It is set for Monday, March 17th at 7:30 PM and will be held at Cornwall United Methodist Church (click here for directions). Craig will bring some example pieces and, time permitting, will offer some help on a piece that you bring in. If you're interested, please bring along 15 copies of your selection so we can be your demonstration choir.
A selfish commercial plug for the annual "Bach Birthday Concert" at West Point's Old Cadet Chapel -- that's the one on the cemetery grounds -- a Pat Maimone tradition. The concert is scheduled for noon; if you're planning on coming, leave a few minutes early to get through the security check at the gate. It has to be good, there's cake and ice cream following the concert!
We're not going to have a chapter event in April so you all have time to practice and get ready to play at our annual Members' Recital that will be held on Friday, May 2nd, at 7:30. Contact information will appear in next month's newsletter.
Looking forward to celebrating St. Patrick's Day with the CHVAGO in Cornwall -- hope to see YOU there!!

Membership Updates
Welcome to our newest member! His contact information is:
Al. E. Schroer
PO Box 966
Marlboro, NY 12542
845-236-3470
Dallas-wood1@msn.com
Employed by Peragallo Organ Company - in the process of forming Hudson Valley Organ Company
We look forward to meeting Al at our next chapter event.

Dorothy Ann Davis, wife of Jack Davis, died suddenly on February 8, 2003. Dorothy Ann attended Westminster Choir College in Princeton, NJ, earning Bachelor and Master of Music degrees - the latter as an organ performance major. Prior to her retirement, Dorothy Ann had served for more than ten years as director of music at Marist College following a number of years at a similar position at Ladycliff College in Highland Falls, NY. In later life she did further graduate work in Temple and Miami Universities. As college director, Dorothy Ann led her choral groups on tours to Russia, Italy, Spain, Czechoslovakia, Poland, Australia and many other locations. She served for many years as president of a college women's glee club association, which sponsored annual festival competitions, in which her groups consistently received high ratings. A memorial service and reception was held at the Reformed Church, Poughkeepsie on February 13, 2003. Memorial contributions may be made to Organ Fund, The Reformed Church, 70 Hooker Avenue, Poughkeepsie, NY 12601.

Dorothy Meade Beynon, mother of long-time member and former sub-dean Polly James, died on February 17, 2003. Mrs. Beynon taught piano and served churches as an organist and choir director for fifty years in the Buffalo area before moving to New Paltz. As a member of the Poughkeepsie United Methodist Church, she continued to play the organ, frequently accompanying the Chancel Choir. She and her daughter Polly James memorably played organ duets at members' recitals in 2000 and 2001. A Memorial Service of Celebration was held at the Poughkeepsie United Methodist Church on New Hackensack Road in Poughkeepsie on Sunday, February 23, 2003. . Memorial contributions may be made to the Memorial Fund of the Poughkeepsie United Methodist Church.

Frank A. Bassen, MD, father of Denise Levine, died on February 17, 2003, at the age of 99. Formerly of Rye, NY, he recently lived in Hopewell Junction with his daughter Denise. A noted physician, he identified Bassen-Kornsweig Syndrome, that is now known as Betalipoprotein deficiency. There were no obsequies.
Directions to Cornwall United Methodist Church
From Newburgh-Beacon Bridge:
Take Rte 9W south to the Rte 218 ramp (Cornwall).
Stay straight to go onto Rte 218/Academy Avenue.
Turn SLIGHT RIGHT onto County Rte 9/Main Street.
Continue for about one-half mile to the church, on your right.
Remembering Margaret Pecoraro
We are pleased to pass along this tribute to our deceased colleague Margaret Pecoraro, based on material supplied by her son Steven Pecoraro.
Margaret Pecoraro (born Margareta Anna Deegen), was born in Mainz, Germany, on June 4, 1931. She began taking piano lessons at age 9 and organ lessons at age 11. By age 12, she was playing organ at St. Erasmus, the local church in Zahlbach, Germany. In 1949 she graduated from the Church Music Institute of the Diocese of Mainz as an Organist and Choir Master. In 1951 Margaret obtained her degree as a Piano Teacher from the Hoch-Schen Music Institute in Frankfurt am Main. From 1949 to 1958 Margaret was the organist at St. Ignatius in Mainz, and was giving private lessons from 1951 to 1958.
In 1958, while visiting a relative who had emigrated to the United States, she met Cyrus Pecoraro in New York City. They were wed in Germany on March 31, 1960, and then settled in Flushing, Borough of Queens, New York.
In the 1970's Margaret began playing the organ in St. Mary's Nativity Church in Flushing, as well as at St. Paul's in Staatsburg, New York, where her family had a weekend/summer home. As her sons Steven, Andrew, and Thomas (born in 1961, 1962, and 1963, respectively) grew into their teens, she began again giving piano lessons. Her husband Cyrus retired in 1984, and in 1985 he and Margaret moved to Lagrangeville, NY. Soon thereafter Margaret began playing the organ at St. Columba Church in Hopewell Junction, NY, in addition to playing local weddings and funerals and giving lessons as well. Later she began playing regularly for St. Mary's Church in Poughkeepsie, NY.
Margaret was diagnosed with pancreatic cancer on December 6, 2001. Despite her poor prognosis, she continued playing at St. Mary's until June of 2002. She was hospitalized in early August and remained so until she passed away on November 24, 2002. Her funeral and burial took place on November 30, 2002, at St. Denis Church and Cemetery in Beekman, NY, where she had also played the organ on many occasions. On January 14, 2003, a memorial service took place at St. Erasmus Church in Zahlbach, Germany, where Margaret began playing the organ at age 12.
Organ Teachers Identification Project
Our chapter would like to establish a list of members who offer organ lessons, for publication in our newsletter and on our web site. In addition to your address and phone number, we would like to know the ages and proficiency levels of your students. If you would like to be included in this list, please contact the editor, Susan LaGrande, at 845-226-6496 or click here to send e-mail.
Editor's Corner
This newsletter is published by the Central Hudson Valley Chapter of the American Guild of Organists. The editor is:
Susan LaGrande
12 Montrose Lane
Wappingers Falls, NY 12590
Phone: 845-226-6496 (home)
Fax: 845-226-1035
e-mail: SUSANEL2@HOTMAIL.COM
All material in this newsletter (except for lists of members' addresses and phone numbers) is available on our web site at www.chvago.org
Newsletter Items Wanted
Contributions to this newsletter are always welcome. We have been very pleased to offer a member profile in previous issues. If you would like to be profiled, you may write your own biography (up to 500 words) or contact the editor to arrange an interview.
We also solicit news of upcoming events for our Calendar page, as well as reviews, particularly of recent chapter events. Articles and news items may be submitted to the editor by mail or by e-mail at the address above. Articles may be edited for length or clarity.
About Our Web Site
We are certainly pleased with the response to our web site, and we encourage everyone to visit it frequently to keep up with periodic updates and improvements. Once again this newsletter (as well as previous issues) is available on the web site. However, please be aware that while the entire text of the newsletter is reproduced on the web site, some sections have been split off into separate web pages. For example, the List of Substitutes is accessible from the Home Page by clicking on the "Sub List" button. This not only avoids duplication of this information across multiple issues of the newsletter, but also makes it easier for a visitor to find it.
Be sure to spread the word about our web site among fellow organists, other musicians, students, and members of the clergy, so that our web site can serve as wide an audience as possible.