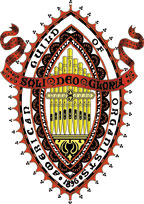 Newsletter - May 2003

Click here for the Newsletter Archive



Letter from the Dean
Ok, we all can breathe now, we made it though another busy Easter season. Now we can put all our energy into the annual Members' Recital, which will be this Friday, May 2nd at 7:30 at St. John's Evangelical Lutheran Church in Poughkeepsie. At this year's recital we will not only recognize our chapter's 50th anniversary, but we will also be formally starting the "Margaret Pecoraro Memorial Scholarship Fund." It would be nice to see most of our members make it to this event — bring a friend!
Some highlights from the coming event: Pat Maimone's recital at West Point on the 18th of May. If anybody wants to head down to Rutherford, NJ, you can come to the Hudson Opera Theatre's production of Franz Lehar's "The Merry Widow." Not only do I sing in the chorus, but I have to dance. It's much easier (and comfortable) to PLAY dances than it is for me to DO them. Show times are 8 PM on May 10th and 17th, plus a "Sunday Matinee" on the 18th at 3 PM. The preceding was a shameless plug for one of MY activities! For more info, you can visit www.hotopera.com. Don't forget to look at ALL the coming events — local, and chapter so we can support each other.
Since I had a Saturday free (yeah, right!) my church's Handbell choir participated in the Hudson Valley Handbell Festival in Nyack. Susan Guse brought two bell choirs from her church to play. It was a great experience, and coincidentally, we also saw Charles Kelly, who will be leading our June meeting on handbells on Saturday, June 14th at the New Hackensack Reformed Church.
In case you missed it, there were at least three items of chapter interest in this month's TAO magazine: Margaret Pecoraro's obituary, a listing of Craig Williams' recital (11/17) and once again, an entry in the "Chapter News" area. We got some publicity in the Middletown Times Herald-Record from an article on trying to fill empty organist positions in churches in the area. (Click here for complete text, made available by permission of the publisher.) As a result of some e-mail contact, the writer quoted yours truly and at least identified our chapter by name. It was also nice for them to recognize that the "organist-in-a-box" electronic hymnals don't allow for any flexibility when you're singing. I guess the folks that dreamed those things up never spent any time trying to play along with a metronome!! Hoping for a record turnout for the Members' Recital on Friday!!!

Membership Updates
The time has come once again for renewing your AGO membership. This year we will be mailing applications/renewal forms to each member; look for them in your mailbox in a couple of weeks. In order to have your membership registered on time, you must return your completed form, with your check, to Mary Caskey by June 30. Please remember that renewing late can mean an interruption of your subscription to The American Organist magazine, because of a three-month offset in the publishing schedule.

Please also consider inviting a colleague to join our chapter; extra copies of the application form can be obtained by calling Susan LaGrande at 845-226-6496 or by visiting our web site. Our chapter is vital and dynamic now; just think what an impact we can make if we increase our membership! Currently we represent only a fraction of the organists working in churches in the Central Hudson Valley; let's see how many of those we can recruit during this membership campaign.

Boyd Herforth now can be reached by e-mail at bherfort@mka.pvt.k12.nj.us

Joe Miller has rejoined the chapter. His contact information is:
154 Hillside Road
Poughquag, NY 12570
845-724-3111
Joe.S.Miller@aol.com
Philip Hahn Dies at Age 67
Twenty-eighth President of the American Guild of Organists
NEW YORK CITY...The American Guild of Organists (AGO) is very sad to announce the death of PHILIP HAHN, aago, the Guild's immediate past president. He died peacefully at his home in San Francisco, Calif. on Sunday, April 13, 2003 from complications of myelofibrosis, a disease of the bone marrow. He is survived by his partner of 29 years Norman Nagao; two sisters, Thelma Copeland of Adrian, Mich., and Jean Redman of Dallas, Tex.; and a number of nephews and nieces. A memorial service will be held at St. John's Episcopal Church in Ross, Calif. on Sunday, May 4 at 1 p.m. In lieu of flowers, it is requested that donations be made to the Philip Hahn Scholarship at the American Guild of Organists, 475 Riverside Drive, Suite 1260, New York, N.Y. 10115.
Need an Organ?
We have received information on two electronic instruments for sale. One is a Kimball electronic organ (2 manuals, 10 pedals), and the other is a Conn electronic organ (2 manuals). Both are in very good condition. Contact: Mrs. Fran Streck, 845-446-2381.
Editor's Corner
This newsletter is published by the Central Hudson Valley Chapter of the American Guild of Organists. The editor is:
Susan LaGrande
12 Montrose Lane
Wappingers Falls, NY 12590
Phone: 845-226-6496 (home)
Fax: 845-226-1035
e-mail: SUSANEL2@HOTMAIL.COM
All material in this newsletter (except for lists of members' addresses and phone numbers) is available on our web site at www.chvago.org
Newsletter Items Wanted
Contributions to this newsletter are always welcome. We have been very pleased to offer a member profile in previous issues. If you would like to be profiled, you may write your own biography (up to 500 words) or contact the editor to arrange an interview.
We also solicit news of upcoming events for our Calendar page, as well as reviews, particularly of recent chapter events. Articles and news items may be submitted to the editor by mail or by e-mail at the address above. Articles may be edited for length or clarity.
About Our Web Site
We are certainly pleased with the response to our web site, and we encourage everyone to visit it frequently to keep up with periodic updates and improvements. Once again this newsletter (as well as previous issues) is available on the web site. However, please be aware that while the entire text of the newsletter is reproduced on the web site, some sections have been split off into separate web pages. For example, the List of Substitutes is accessible from the Home Page by clicking on the "Sub List" button. This not only avoids duplication of this information across multiple issues of the newsletter, but also makes it easier for a visitor to find it.
Be sure to spread the word about our web site among fellow organists, other musicians, students, and members of the clergy, so that our web site can serve as wide an audience as possible.