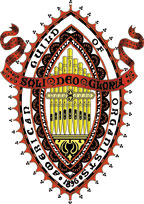 Newsletter - November 2001

Click here for the Newsletter Archive



Letter from the Dean
Welcome to the beauty that is leaf-changing season in the Hudson Valley. The leaves in the area are once again a gorgeous sight to behold.
Exciting things are happening with the chapter. We have gone forward with plans to establish a chapter web site. The address will be www.chvago.org. Lots more on this coming up as the web site becomes fully operational. Later on, you will be given the option of getting your newsletter not in the mail, but on the internet; an e-mail reminder will let you know that the newest issue is available on the web site. The chapter will be able to realize cost savings of postage, paper and printing from every member that chooses to just view the "cyberspace" version. Susan LaGrande has been responsible for the entire project and has done her usual wonderful job.
We are going to put a bid in to host the 2005 Region II Convention. This will require a large commitment of our chapter's resources, both financial and time. We feel that our area has too much to offer to not make an attempt to do this. We will keep the chapter membership well informed of all steps, and will not formally commit to hosting unless we know we have all the required resources. I hope all of you will accept the challenge to support this wonderful opportunity when asked to help.
The next chapter event will be a crawl of the West Point Cadet Chapel organ. Craig Williams, one of our newest chapter members (and Lee Dettra's successor), will be our host on Saturday, November 17th from 11:00 AM – 1:30 PM. Be sure to bring music and shoes for this wonderful opportunity to play one of the largest pipe organs in the world.
***Please plan on an extra 30-45 minutes of travel time due to increased security requirements at West Point. You must use the Stony Lonesome or Thayer Gates to access West Point. Have a photo ID with you, and be prepared to have your car searched – from under the hood, and in your trunk, to include all bags in the vehicle. When asked, tell them you are going to the Cadet Chapel for a meeting. If you do not have a "reason" for visiting West Point, you WILL be turned away. I have already spent one 12-hour shift inspecting cars coming in the gate. Not only do I have an increased opinion of the MP's who do this day in, day out, but I now know how to open almost ANY kind of car or truck hood. To include dump trucks and tractor trailors.
See you at the Point!!

Editor's Corner
This newsletter is published by the Central Hudson Valley Chapter of the American Guild of Organists. The editor is:
Susan LaGrande
12 Montrose Lane
Wappingers Falls, NY 12590
Phone: 845-226-6496 (home)
Fax: 845-226-3248
e-mail: SUSANEL2@HOTMAIL.COM.
All material in this newsletter (except for lists of members' addresses and phone numbers) is available on our web site at www.chvago.org
Newsletter Items Wanted
Contributions to this newsletter are always welcome. We have been very pleased to offer a member profile in previous issues. If you would like to be profiled, you may write your own biography (up to 500 words) or contact the editor to arrange an interview.
We also solicit news of upcoming events for our Calendar page, as well as reviews, particularly of recent chapter events. Articles and news items may be submitted to the editor by mail or by e-mail at the address above. Articles may be edited for length or clarity.
Specification Lists Still Wanted
Another specification list has been submitted since our last request. Thanks to Beverly Simmons for information on Zion Episcopal Church in Wappingers Falls. A search of old chapter newsletters also uncovered a stop list for Grace Episcopal Church in Middletown - hope it's up to date!
This information will eventually be made available on our chapter website (under development). Please send any stoplists and photographs you may have collected to Susan LaGrande, 12 Montrose Lane, Wappingers Falls, NY 12590 - e-mail: susanel2@hotmail.com
Membership Updates
If you have changes to your address, phone number or e-mail, please be sure to notify the chapter secretary, Susan LaGrande, at 845-226-6496 or e-mail: susanel2@hotmail.com
Directions to Cadet Chapel, West Point
From Rte 9W south you may take either Stony Lonesome Gate or Thayer Gate (Washington Gate is closed to vehicle entry. Have photo ID ready and be prepared to have your car searched. Carpooling is suggested.
Stony Lonesome Gate: Take the first "West Point, Highland Falls" exit. This will lead you into Stony Lonesome Gate. After the vehicle inspection, continue straight. You will go down a long hill, pass the football stadium, pass the Holleder Center (on right) - road will make a sharp left, then stay to the left to the Stop sign. Turn left onto Mills Road at the stop sign (T intersection) - this takes you past the football stadium (again) and Lusk Reservoir. Road curves right, then the road turns left. As you come down this hill, the Cadet Chapel is first road on the right, Derussy Loop. Thayer Gate: Take the second "West Point, Highland Falls" exit. This will lead you into Highland Falls, past the Visitor's Center and Museum, and through to Thayer Gate. After the vehicle inspection, turn left at the stop sign. Follow this road all the way to the top where the football stadium is on your left, followed by Lusk Reservoir. Road curves right, then the road turns left. As you come down this hill, the Cadet Chapel is first road on the right, Derussy Loop.
List of Organ Substitutes
Jeffrey Alban 845-226-6482
Elena Belyayeva 845-452-2069
Greg Citarella 845-297-7693
Richard C. Ehlenberg 845-658-9746
Boyd Herforth 845-255-5298
(Work) 973-783-8798
Lois Hoger 845-229-7404
Janet Nickerson 845-561-0763
Jeff Parries 845-297-6870
W. Alan Seale 845-482-9309 or 212-749-1817
For Weddings & Funerals Only:
Joe Bertolozzi 845-831-0695
Larry Hazard 845-452-0119
Erna Loerch 845-226-8094