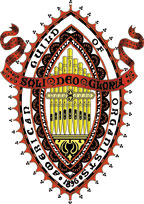 Newsletter - October 2002

Click here for the Newsletter Archive



Letter from the Dean
October greetings! Our first event of this new season will be Pat Maimone showing us how to best play Bach and his contemporaries on instruments that weren't built with playing Baroque music in mind. We'll meet at the Reformed Church in Fishkill at 4:00 PM on Monday, October 14th (Happy Columbus Day!) and work from there. At press time, we weren't yet able to finalize all the details, but we plan on working with two other organs (to include an electronic) to help show us how to make this wonderful genre of music work well. We'll finish up with a light dinner at the Dubois House – thanks, Connie Lacey, for your hospitality!
Another October happening is Fred Swann's recital at the West Point Cadet Chapel. As always here at "The Point" you will want to plan to arrive early. Unless you have a DOD sticker on your car, you can NOT use the Washington Gate (by the hospital) to enter the post – you'll have to use Stony Lonesome or Thayer.
There are some changes to your executive board. Unfortunately, Denise Levine resigned her seat on the board, but Beverly Simmons has accepted the nomination to fill the position for the remainder of the term. Beverly will be an "at-large" member, while Don Filkins is now the Professional Concerns chair.
Other upcoming events include an introduction to the organ for young piano students, which will be held on Saturday, November 2nd in two locations (Union Presbyterian in Balmville, and St. John's Lutheran in Poughkeepsie). The times will be 11:00 AM-1:00 PM at St. John's and 10:00 AM - 12:00 Noon at Union Pres. Pizza will be served at the Poughkeepsie site, while lighter breakfast-y refreshments will be served in Balmville. If you are willing to lend a hand at either location, please give a call or e-mail to Susan Guse (for St. John's) or to myself (for Balmville). We will be sending letters to piano teachers in the local Music Teachers National Association (MTNA), asking if they have students that would like to come and play a piano piece on the organ. If you have any piano students that might be interested, please call Susan or myself to let us know. If you know of any teachers not in the MTNA who might be interested, please let them know, also. We aren't looking to exclude anyone's studio – MTNA is simply a good resource for a mailing list!
Looking way ahead to February 9th, 2003, we will be sharing a New Choral Anthem reading workshop with the Westchester chapter, to be held at the Yorktown United Methodist Church in Yorktown Heights at 4:00 PM. Thanks to Edna Schloton for extending the invitation from the Westchester Chapter.
I'm off to rehearse for a production of "Rigoletto" being done in Rutherford, NJ. Who knew that memorizing 20 minutes of music (and Italian words!) could be sooooo tough!
Let's all spend Columbus Day in Fishkill!!! Hope to see many of us there --

Membership Updates
Margaret Pecoraro is still at Calvary Hospital, but she has a new mailing address:
281 Peekskill Hollow Rd
Putnam Valley, NY 10579-3212
Phone: 718-518-2409. Room 409
Brief phone calls (before 8:00 PM), visits, and of course cards and letters are welcome.
Directions to the hospital (courtesy of Margaret's son Steven) are as follows:
Take the Taconic Parkway southbound. It will eventually merge with the Sprain Brook Parkway.
Take the Cross County Parkway eastbound to Hutchinson River Parkway southbound.
(Alternatively, one can take either Interstate 684 or 287 to Hutchinson River Parkway southbound.)
Get off at Pelham Parkway westbound.
Shortly thereafter, make a left on Eastchester Road.
Make a left into Calvary Hospital, which is 1740 Eastchester Road.

Beverly Simmons will have a new address as of October 21, 2002:
42 Timberline Drive
Poughkeepsie, NY 12603
Phones: 845-463-1249 (home) or 845-297-9797 (work)
E-mail: bcs@bestweb.net

Wayne Downing has a new e-mail address:
wdowning@hvc.rr.com

Stu Ballinger has a new e-mail address:
Wabss8@netscape.net


Directions to First Reformed Church, Fishkill

The church property is right on the corner of Route 9 and Route 52 (Main Street) and the tall brown steeple is visible for a considerable distance. There is a parking lot next to the Dubois House, which is the white building closest to Route 9. Enter the parking lot immediately upon turning onto Route 52.
From the North: Take Route 9 south to Fishkill. Turn right on Route 52.
From the South and West: Take Route I-84 east to Exit 13 (Route 9) northbound. Turn left on Route 52.
Editor's Corner
This newsletter is published by the Central Hudson Valley Chapter of the American Guild of Organists. The editor is:
Susan LaGrande
12 Montrose Lane
Wappingers Falls, NY 12590
Phone: 845-226-6496 (home)
Fax: 845-226-1035
e-mail: SUSANEL2@HOTMAIL.COM
All material in this newsletter (except for lists of members' addresses and phone numbers) is available on our web site at www.chvago.org
Newsletter Items Wanted
Contributions to this newsletter are always welcome. We have been very pleased to offer a member profile in previous issues. If you would like to be profiled, you may write your own biography (up to 500 words) or contact the editor to arrange an interview.
We also solicit news of upcoming events for our Calendar page, as well as reviews, particularly of recent chapter events. Articles and news items may be submitted to the editor by mail or by e-mail at the address above. Articles may be edited for length or clarity.
About Our Web Site
We are certainly pleased with the response to our new web site, and we encourage everyone to visit it frequently to keep up with periodic updates and improvements. Once again this newsletter (as well as previous issues) is available on the web site. However, please be aware that while the entire text of the newsletter is reproduced on the web site, some sections have been split off into separate web pages. For example, the List of Substitutes is accessible from the Home Page by clicking on the "Sub List" button. This not only avoids duplication of this information across multiple issues of the newsletter, but also makes it easier for a visitor to find it.
Be sure to spread the word about our web site among fellow organists, other musicians, students, and members of the clergy, so that our web site can serve as wide an audience as possible.