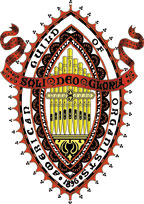 Newsletter - October 2003

Click here for the Newsletter Archive

Click here for a printable copy of the current newsletter



Letter from the Dean
Our program year got off to a terrific start with our organist-clergy Vespers service at the First Congregational Church in Poughkeepsie. By my count, we had over 30 people in attendance. Thanks to all who participated and also kudos to Beverly Simmons and John Sullivan who put together the program. We will look at making this an annual event, it was that good.
The next chapter event is a demonstration of "Working with Children's Choir" by our very own Susan Guse in collaboration with Susan Bialek. Even if you don't lead a children's choir, you may want to pick up some tips since many organist positions include supervising someone who does direct the children's choir. This will be held from 11 AM to 1 PM on Saturday, October 4th at Saint John's Lutheran in Poughkeepsie.
Recently, one of our chapter members had a bad experience when applying for a church position. It should serve as a reminder that you should have most of the information you need going in to the interview — such as salary, how many weeks paid vacation, number of extra services (high Holy days), etc. When a church mentions that the salary is negotiable, keep in mind that you may be expected to be more flexible than the church.
Keep an eye on the Calendar of Events section — there are many wonderful opportunities to be found. The sooner you see the listings, the more likely you can arrange your schedule to attend the events that interest you the most. We invite you to support your fellow AGO members whenever possible.
For those of you looking ahead to LA for the National Convention, the reduced early registration rates are available now through January 31, 2004. You can find the info in the upcoming TAO, or at www.agohq.org/2004 starting in October.
See you in Poughkeepsie!!

Working with Children's Choirs

October 4, 2003 from 11:00 A.M. -- 1:00 P.M.
Susan Bialek and Susan Guse
St. John's Lutheran Church
55 Wilbur Blvd.
Poughkeepsie, NY 12603
This two hour workshop will cover topics including how to set up a children's choir program, repertoire for children, vocal techniques for working with children's voices and developing pitch sensitivity in the young singer.

Susan Bialek teaches at the Dutchess Day School in Millbrook, N.Y. She directed the Hudson Valley BACH FEST children's choir in 2002 and 2003. She spent several months in Toronto during the 2001-02 school year as the first intern to the Toronto children's choir.

Susan Guse is the director of music ministries at St. John's Lutheran Church in Poughkeepsie, N.Y. In 1990, she started St. John's existing children's choir program. Currently, she works with Amy Huber on the children's choir program, directs six handbell choirs and the adult choir as well as playing the organ.

Directions to St. John's Lutheran Church:

From the Mid Hudson Bridge: After crossing the bridge, continue on Rte 44-55 East through 10 traffic lights. The eleventh traffic light should be Grand Avenue. Turn right onto Grand Avenue and go through two lights (Fulton Avenue and College Avenue). The third light will be Hooker Avenue, where you will turn left. Then take the second right onto Wilbur Boulevard, opposite the Chinese take-out restaurant. St. John's is on the left about a quarter- to a half-mile down the road. Ample parking is provided in a well lighted lot. There will be signs to direct you to the meeting location.

From the north: Take Rte 9 south to Rte 44-55 east and follow above directions.

From the south: Take Rte 9 north to Rte 44-55 east and follow above directions.

From the east: Take Rte 44-55 West to Raymond Avenue. Turn left on Raymond and go to the end of the street. Turn right onto Hooker Avenue and proceed about half a mile to Wilbur Boulevard, which is the third "real" left, opposite the same Chinese take-out mentioned above.

Membership Updates
Welcome to our new member, Jennifer Geibel. Some of us had a chance to meet her at the picnic in July. Her contact information is:

Jennifer Geibel
6296 Mill Street
Rhinebeck, NY 12572
845-876-3933 (Home)
973-769-1462 (Cell)
e-mail: musicgeibel@hotmail.com
Organist, First Congregational Church, Poughkeepsie

Welcome also to our newest student member, Michael Linke, who joined us after participating in the NYC POE this summer. We look forward to meeting him soon. His contact information is:

Michael Linke
8 Springsteen Court
Stony Point, NY 10980
845-786-5592

We also welcome Judith Brown who comes to us from the Westchester chapter. Her contact information is:

Judith Brown
PO Box 716
Wurstboro, NY 12790-0716
845-888-5318
e-mail: judiebrown@frontiernet.net
Minister of Music, Larchmont Avenue Presbyterian Church, Larchmont, NY

Welcome back to returning member Nancy Brown. Her new contact information is:

Nancy Brown
577 Smithfield Valley Road
Amenia, NY 12501
845-373-8122
e-mail: nancybrown@mohawk.net
Organist, 1st Congregational Church, Kent, CT
Editor's Corner
This newsletter is published by the Central Hudson Valley Chapter of the American Guild of Organists. The editor is:
Susan LaGrande
12 Montrose Lane
Wappingers Falls, NY 12590
Phone: 845-226-6496 (home)
Fax: 845-226-1035
e-mail: SUSANEL2@HOTMAIL.COM
All material in this newsletter (except for lists of members' addresses and phone numbers) is available on our web site at www.chvago.org
Newsletter Items Wanted
Contributions to this newsletter are always welcome. We have been very pleased to offer a member profile in previous issues. If you would like to be profiled, you may write your own biography (up to 500 words) or contact the editor to arrange an interview.
We also solicit news of upcoming events for our Calendar page, as well as reviews, particularly of recent chapter events. Articles and news items may be submitted to the editor by mail or by e-mail at the address above. Articles may be edited for length or clarity.
About Our Web Site
We are certainly pleased with the response to our web site, and we encourage everyone to visit it frequently to keep up with periodic updates and improvements. Once again this newsletter (as well as previous issues) is available on the web site. However, please be aware that while the entire text of the newsletter is reproduced on the web site, some sections have been split off into separate web pages. For example, the List of Substitutes is accessible from the Home Page by clicking on the "Sub List" button. This not only avoids duplication of this information across multiple issues of the newsletter, but also makes it easier for a visitor to find it.
Be sure to spread the word about our web site among fellow organists, other musicians, students, and members of the clergy, so that our web site can serve as wide an audience as possible.